Details

Category: MP News
Last Updated:

Thursday, 22 January 2015 20:48
Can Scindia change Congress' fortunes in BJP-ruled Madhya Pradesh?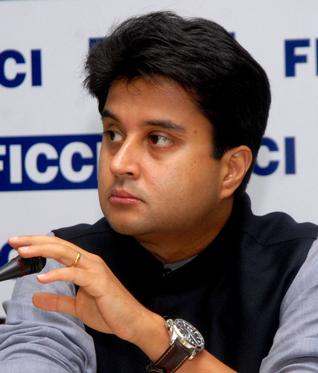 Bhopal: Young Congress leader and Union Minister Jyotiraditya Scindia, who will formulate the party's campaign strategy for upcoming assembly election in Madhya Pradesh, has a tough task at hand in the state where BJP is ensconced in power for the last 10 years.
The 42-year-old son of former Union Minister, late Madhavrao Scindia, was appointed Chairman of State Congress Election Campaign Committee with the AICC effectively handing him the onerous task of bringing the party back in power. Could Jyotiraditya Scindia bring the Congress back to power in MP?
AFP Could Jyotiraditya Scindia bring the Congress back to power in MP? AFP Image According to political observers in Bhopal, Scindia's appointment has put a challenge before BJP, which under Chief Minister Shivraj Singh Chouhan, would be seeking a third consecutive term in power in the polls likely in November-December.
Congress is in opposition in Madhya Pradesh since 2003 and to bring it back to power will be a crucial test for Scindia's leadership and his ability to take everyone along as the party is faction-ridden in the state. Though Congress has a tradition of not projecting anyone as the Chief Ministerial candidate, the appointment of the Guna MP virtually makes him one of the top contenders for the post should his party manages to oust BJP.
Congress leaders from the state, including Union Minister Kamal Nath and Satyavrat Chaturvedi, MP, had on a number of occasions emphasised the need to project a young face from the party as the CM candidate. Congress General Secretary Digvijaya Singh, the tallest party leader in the state, has repeatedly sought to downplay the issue of a young Chief Minister.
A report from Guna last evening quoted Digvijaya as saying newly-elected Congress MLAs will choose their leader. His comments came before Scindia was named campaign chief. He was reacting to media queries about Nath's remark that the state would see a "young" Congress Chief Minister. Suave and tech-savvy, the young Scindia is seen as a popular leader among Congress workers, especially the party's youth brigade.
source:http://www.firstpost.com