What politician says over Smriti Irani post ?
Details

Parent Category: Political News
Last Updated:

Thursday, 22 January 2015 20:58
What politician says over Smriti Irani post ?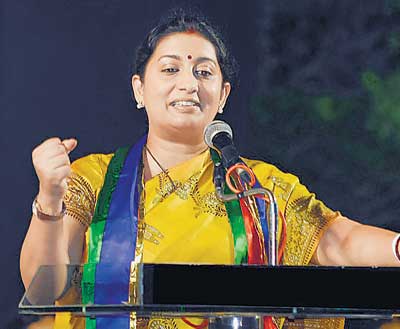 Human Resource Development Minister Smriti Irani herself has refused to comment on the controversy over her educational qualification. This after the Congress came down hard on Irani with Ajay Maken questioning how a 12th class pass-out can head the HRD ministry.
The

Bharatiya janata Party has, however, hit back at the Congress

asking what its President Sonia Gandhi's qualification is. "I would like to ask what is Sonia Gandhi's educational qualification," asked Mos textiles Santosh Gangwar said.
Wondering how can someone who has been made in charge of HRD has not even clearly mentioned her educational qualifications,

Congress leader Ajay Maken tweeted

, "What a Cabinet of Modi? HRD Minister (Looking after Education) Smriti Irani is not even a graduate! Look at her affidavit at ECI site pg 11."
"People have seen Smriti Irani in Parliament. They have seen her leadership. The PM has given her the responsibility because of her merit,"

said BJP leader Ravi Shankar Prasad

.
Jammu and Kashmir Chief Minister

Omar Abdullah tweeted

, "To say that someone needs to be educated to be HRD Min(ister) is like saying one needs to be a pilot for Civil Aviation or a miner for Coal Min(ister)."
"If they had made her in charge of a state ministry it would have been fine. But this department needs experience and the government doesn't seem to be taking it seriously,"

NCP leader Tariq Anwar added.
 Also read..(list of cabinet and state ministers 2014)  (List of Member of Parliament 2014)