Uttar Pradesh polls: Over 38% polling till 5 p.m,5th Phase Lok Sabha Elections 2014 LIVE Updates: Karnataka , Fifth Phase 17th April Parliamentary Constituency Updates, Karnataka, 5th Phase Lok Sabha Elections Voting Patterns Live, Parliamentary Election
Details

Parent Category: Political News
Last Updated:

Thursday, 22 January 2015 20:57
Uttar Pradesh polls:  Over 38% polling till 5 p.m,5th Phase Lok Sabha Elections 2014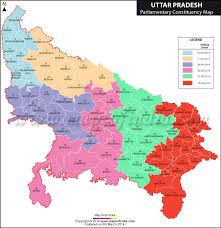 Lucknow: Voters in 11 Lok Sabha constituencies in Uttar Pradesh turned out in large numbers to exercise their franchise Thursday, and 40 percent balloting was recorded till afternoon, officials said. 

The Election Commission said brisk polling was reported from Moradabad (42 percent), Pilibhit (40), Nagina (43) and Lakhimpur Kheri (41) till 1 pm, while in other places voting was sluggish. .( Complete 5th phase of lok sabha poll )

The turnout in Sambhal was 35 percent, Budayun 34 percent, Aonla 36 percent, Bareilly 38 percent and Shahjahanpur 37 percent.
Rampur, the pocket borough of state Urban Development Minister Azam Khan, also witnessed slow polling, as only 37 percent of the voters turned up till 1 pm. 

Polling officials said there were serpentine queues across the 11 constituencies that went to the polls Thursday, but added that the rise in mercury was a deterrent in some places. ( Lok sabha election upadtes read here )

The phase is crucial for the Congress as it holds four seats in the region in the outgoing Lok Sabha. 

The BJP has two members, the Samajwadi Party three and Bahujan Samaj Party one. One seat is held by an independent. 

No untoward incident has been reported so far, though five villages in Pilibhit boycotted the voting protesting the lack of development.

Over 1.85 crore voters are eligible elect their representatives from among 150 candidates. 

Votes will be cast at 18,910 polling centres. 

There are 17 woman contestants, including former union minister Maneka Gandhi. 

The biggest constituency in this phase is Shahjahanpur with 19.78 lakh voters, while the smallest is Nagina with 14.92 lakh electors. 

Polling in the state's 80 Lok Sabha constituencies will be completed in six phases, which included the first phase April 10. The remaining phases are April 24, 30 and May 7 and 12. 

The first phase of polling in 10 Lok Sabha constituencies saw a turnout of around 65 percent
.