Rajasthan polls: Over 40 percent polling till 3 pm,Rajasthan,BJP,Elections 2014,Congress,Lok Sabha,5th Phase Lok Sabha Elections 2014 LIVE Updates, Fifth Phase 17th April Parliamentary Constituency Updates, Rajasthan , 5th Phase Lok Sabha Elections Voting
Details

Parent Category: Political News
Last Updated:

Thursday, 22 January 2015 20:57
Rajasthan polls: Over 40 percent polling till 3 pm,Rajasthan,BJP,Elections 2014,Congress,Lok Sabha,5th Phase Lok Sabha Elections 2014 LIVE Updates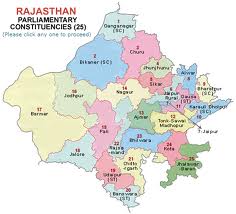 Jaipur: An average of over 40 percent of total 3.48 crore electors cast their votes in the first phase Lok Sabha polls being held on 20 out of 25 seats in Rajasthan till 1500 hours. 

"Polling is underway on a very peaceful note so far barring a few incidents of party workers' altercation in Ajmer and Bikaner outside the booths", DGP-Law and Order Navdeep Singh told a news agency here. ( Complete 5th phase of lok sabha poll )


Over 80,000 security personnel were on duty to ensure free and fair poll, and incident free, DGP claimed. 

Chief Minister Vasundhra Raje cast her vote at the polling station set up in Topkhana school in Jhalawar.

PTI"I am expecting very good results. We set a mission 25 to win all the parliamentary constituencies in Rajasthan and I hope that we should win all constituencies," Raje told reporters here. 

She said that UPA government has betrayed people and voters know it hence the results would in the favour of the party. .( Lok sabha election upadtes read here )

Jaswant Singh, expelled BJP leader, cast his vote in his home constituency of Barmer, while Rajyavardhan Singh Rathore exercised his franchise with his wife in Jaipur rural constituency. 

Ganganagar (SC) seat registered highest voter turnout of 49.11 percent whereas Banswara recorded 43.35 percent, Barmer 42.8 percent voting. 

Jaipur recorded about 41 percent polling at this hour. 

Former chief minister Ashok Gehlot cast his vote with wife and daughter-in-law at Jodhpur, while BJP candidate Col Sonaram contesting against BJP rebel Jaswant Singh, exercised his franchise in Barmer. 

Coming out of the booth, Gehlot told reporters that it was very dangerous in democratic election that rival party (BJP) was posing as a one man party (NaMo). 

Gehlot criticised BJP's poll campaign in which Modi projected as "is bar Modi sarkar", alleging individualism would not be accepted by voters. 

Altogether 239 candidates including 17 women are in the fray in the 20 Lok Sabha constituencies in the first phase. 

38, 835 polling stations have been set up in the first phase and 5942 among them are critical polling stations.

The 20 LS constituencies where polling is going on are: Ganganagar, Bikaner, Churu, Jhunjhunu, Sikar, Jaipur Rural, Jaipur, Ajmer, Nagaur, Pali, Jodhpur, Barmer, Jalore, Udaipur, Banswara, Chittorgarh, Rajsamand, Bhilwara, Kota, and Jhalawar-Baran. 
Source:Zee news