Details

Last Updated:

Monday, 25 April 2016 12:16
Kerala Asianet News opinion poll 2, Kerala C-FORE Asianet News Opinion poll, Kerala Survey Election Result, Kerala assembly election opinion poll, Kerala Opinion poll, Kerala Opinion poll 2016, Who will win in Kerala polls, Kerala Exit poll, Kerala Party Wise opinion poll,Kerala Opinion Poll April 2016
The second phase poll results show that LDF will get 40% of the votes, while UDF will secure 37% followed by BJP with 18% vote share. The first phase had predicted 41% vote share for LDF.
Summary of all Opinion Polls for Kerala Assembly Elections 2016
However, in terms of the number of seats, the poll results indicate fall in LDF seats from 77-82 seats to 75-81 seats. The first poll had predicted 55-60 seats for UDF, while the new poll indicates 56-62 seats for UDF. NDA's seat-share remain the same: 3-5 seats.
Kerala pre-poll survey (C-FORE for Asianet News)

Party

Vote %


Seats

LDF

40%

75-81

UDF

37%

56-62

BJP+

18%

3-5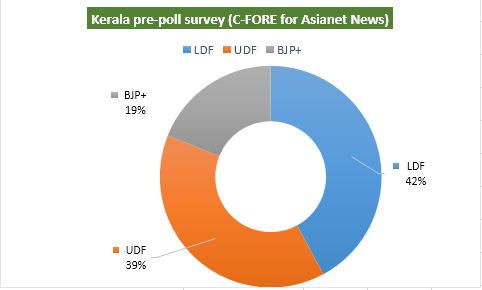 "Who will be the next Chief Minister of Kerala" was one prominent question in the poll. While 29% voters- according to the survey chose Oommen Chandy, 26% of voters chose opposition leader VS Achuthananthan. CPI(M) polit bureau member Pinarayi Vijayan and BJP State president Kummanam Rajashekharan secured 16% of votes each.
Ramesh Chennithala and KPCC President VM Sudheeran secured 6% and 4% respectively. In total, 42% of the voters showed support for LDF, while 39% voted for a CM from UDF. 16% of votes went to NDA.
Further, 56% voters said that actors contesting the election will turn favourable to the party. Majority of voters, according to the survey, said that solar scam has maligned UDF's reputation, while 56% of voters said that government cannot use liquor policy to garner votes.
The poll was conducted between April 7 and April 18.