Live Maharashtra Election Results Party Wise here
Maharashtra Assembly election 2014 polling % Live updates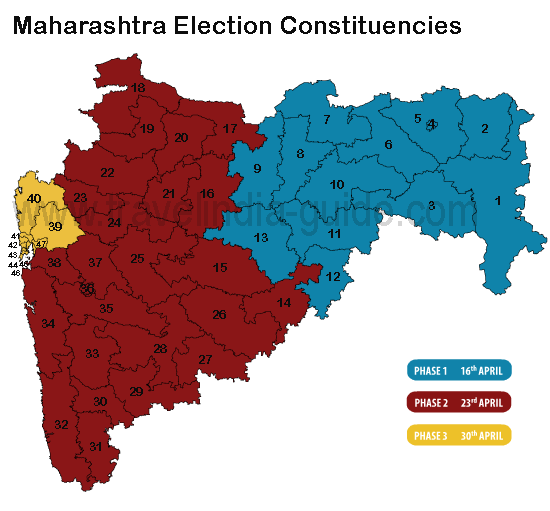 According to latest figures, while Maharashtra recorded only 55% turnout.
New Delhi: 46% voting in Maharashtra till 3 pm

4:15 pm: In the five-cornered contest in Maharashtra over 40 percent of the electorate cast their votes by 3 PM.
4:15pm: Bollywood superstar Shah Rukh Khan casts his vote, says if any person wants his voice to be heard he/she should exercise his right to vote.
4:00 pm: Maharashtra Assembly elections: 36 per cent polling in Mumbai till 3 pm
3:00 pm: Bollywood music composer Vishal Dadlani appeals to voters to go out and vote. He said, "Voting is our responsibility towards the nations."
2:55 pm: Commenting on the possibility of post poll alliances, NCP leader Tariq Anwar says, "There is no question of allying with BJP, we have ideological differences and have always opposed communal force.

2:45 pm: Congress leader Milind Deora casts vote in Mumbai. Hiting out at Prime Minister Narendra Modi Deora says, "The way Modiji campaigned for Maharashtra Assembly polls clearly shows BJP doesn't have regional leadership."
2:40 pm: In Maharashtra highest voter turnout was witnessed in Kagal constituency of Kolhapur district while the lowest was at Bramhapuri constituency in Chandrapur district.
Bollywood music composer Vishal Dadlani appeals to voters to go out and vote. He said, "Voting is our responsibility towards the nations."
2:15 pm: Maharashtra: Akola records 24 percent polling, Auranhagand 29 percent, Dhule 31 percent, Gadchiroli 45 percent, Beed 24 percent, Bhandara 22 percent, Bhuldana 25 percent, Chandrapur 29 percent.
2:08 pm: Maharashtra Assembly elections: 33 per cent voting till 1 pm, just 27 per cent in Mumbai.
1:38 pm: Voting on across Haryana and Maharashtra. Both BJP and Congress claim they will Haryana and Maharashtra elections.
1:23 pm: Bollywood actor Salman Khan casts his vote in Mumbai, appeals youngsters to step out and vote.
1:14 pm: NCP MP Supriya Sule tweets, "Come out and cast your vote.This is our right & duty."
12: 10pm: "Common man is most powerful which is seen in how Modi ji who was a 'chai wala' is now PM, that same power will work here in Maharashtra," said Sena chief Uddhav Thackeray.
12:02 pm: After casting his vote, Shiv Sena chief Uddhav Thackeray t6old reporters, "I am confident that people of Maharashtra will give full support to Shiv Sena. I have complete respect for Narendra Modi but I feel sad that they used us when they needed and left us later."
11:46 am: Around 17 per cent people exercise their franchise in Maharashtra till 11 am.
11:43 am: Around 15.5 per cent polling recorded in Mumbai till 11 am.
11:32 am: I am sure the turnout will increase and people of Maharashtra will vote for the leaders they trust, says Uddhav after casting his vote.
Also Read:


Assembly election 2014: Post-poll scenarios in Maharashtra (Exitpoll)
11:30 am: Shiv Sena leader Uddhav Thackeray casts his vote, along with his wife and son Aditya.
11:04 am: Cricketing legend Sachin Tendulkar appeals to voters to exercise their franchise. He said, "every individual should vote. It is important for the nation."
11:00 am: In Maharashtra, Among Bollywood personalities who went to polling booths in Mumbai early today were actress Rekha, Jaya Bachchan, Abhishek Bachchan, Amol Palekar and actor Atul Kulkarni. Cricket icon Sachin Tendulkar also cast his vote.
10:59 am: Brisk polling in Maharashtra, where 7.31 per cent of the over 8.35 crore voters exercised their franchise till 9 am. The estimated polling in some districts was: Aurangabad 10 per cent, Beed 9, Solapur 8, Kolhapur 10, Hingoli 8.5, Osmanabad 9, Nashik 7, and Parbhani 7.5 per cent.
10:48 Maharashtra records 7.31% voing till 9am, Mumbai and Thane register low turnout of 5.5%
10:30 am: Nearly 7 per cent turnout was recorded till 10 AM in Haryana, according to the state's Chief Electoral Officer, Shrikant Walgad.
10:25 am: Till 9 am Mumbai records 7 percent voter turnout.
10:22 am: Congress leader Prithviraj Chavan addresses media says, "I am confident that people will vote for Congress in these elections for the work done in last 15 years."
10:27 am: In Maharashtra, 4,119 candidates are in the electoral fray, including 276 women in the state with 8.35 crore voters eligible to exercise their right to franchis
10:23 per cent: Seven per cent voting recorded in Mumbai till 9 am.
10:22 am: BJP leader Nitin Gadkari is confident that the BJP will come to power in Maharashtra. He said, " BJP government will come and bring lot of progress in Maharashtra."
10:19 am: In first few hours, Maharashtra's Bhandara districts records 5% voting, Pune 8%, Vardha 3%, Gondia 4%, Sangli 8%, Aurangabad 10% and Usmanabad 8.5%.
10:16 am: Chavan says, "I am confident that people of Maharashtra will support Congress and we will form a majority government."
10:14 am: NCP leader Supriya Sule casts her vote in Baramati.
9:53 am: Voting picks up in Maharashtara, Nanded records 11 per cent voter turnout, Hingoli 7 per cent, Akola 6 per cent, Sangali 9 per cent, Solapur 8 per cent, Nagpur 6 per cent and Pune 8.02 per cent.
9:20 am: Mumbai, which saw less voters during the Lok Sabha elections, is showing similar numbers. Some polling booths are seeing no queues yet.
8:50 am: Bollywood star Abhishek Bachchan casts his vote in Mumbai, appeals people to exercise their right to vote.
Prime Minister Narendra Modi pitched for BJP coming to power on its own in both the states.
This is also the first elections in Maharashtra after established political formations - Shiv Sena-BJP and Cong-NCP - crumbled and the parties are contesting alone after 15 years.
Congress and NCP had ruled the state for 15 continuous years from 1999. The polling will continue till 6 pm. Counting of votes will be held on October 19. The strength of the Maharashtra Assembly is 288.
An electorate of about 8.25 crore will choose from 4,119 candidates in the fray, including 1,699 Independents. While Congress has fielded the largest number of 287 candidates, BJP 280 (including 23 of allies contesting on BJP symbol), Shiv Sena 282, NCP 278 and MNS 219.
With long-standing political alliances crumbling, the poll will test the mettle of four major parties--Congress, NCP, BJP and Shiv Sena individually, with Raj Thackeray's Maharashtra Navnirman Sena trying to emerge as the X factor in the keenly watched contest. The Congress-NCP combine has been ruling the state for 15 years.
Other IMP. Links
---