Madhya Pradesh polls: 40% polling in Madhya Pradesh till 4 pm,5th Phase Lok Sabha Elections 2014 LIVE Updates: Madhya Pradesh , Fifth Phase 17th April Parliamentary Constituency Updates
Details

Parent Category: Political News
Last Updated:

Thursday, 22 January 2015 20:57
Madhya Pradesh polls: 40% polling in Madhya Pradesh till 4 pm,5th Phase Lok Sabha Elections 2014 LIVE Updates: Madhya Pradesh , Fifth Phase 17th April Parliamentary Constituency Updates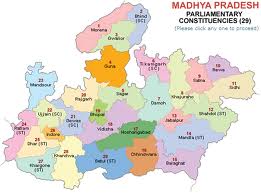 Bhopal: Nearly 40 percent voting was recorded by afternoon in the 10 Lok Sabha constituencies in Madhya Pradesh, which went to polls Thursday, officials said. While balloting was brisk in some constituencies, a few seats, including Bhind, saw sluggish polling. ( Complete 5th phase of lok sabha poll )

Voters at nine polling stations decided to boycott over various local issues, including land acquisition. 


Elections took place in Morena, Bhind, Gwalior, Guna, Sagar, Tikamgarh, Damoh, Khajuraho, Bhopal and Rajgarh constituencies.

Rajgarh saw enthusiastic voters turning up early to cast their votes. The constituency reported 55 percent polling. 

In Bhind, the voting was barely 28 percent. ( Lok sabha election upadtes read here )

As many as 23 EVMs had to be changed after they malfunctioned. Besides, reports reaching here said there were also a few complaints of violence. 

A 16,722,163-strong electorate, which includes 7,716,647 women, is eligible to vote in the second round of polling in the state.

As many as 142 candidates are in the fray. 

Balloting is being held at 18,792 polling booths. A total of 150,336 polling personnel have been deployed. 

The state will see three-phased polling, ending April 24. 

The first phase of voting April 10 in nine constituencies saw 46.55 percent voter turnout.