Tripura East Parliamentary Constituency 2019, Tripura East Lok Sabha Constituency Details, Political News Tripura East, Tripura Lok Sabha Elections 2019 News Updates, Tripura Parliamentary Constituency details 2019, Tripura East MP, Issues Political Analy
Details

Parent Category: Political News
Last Updated:

Tuesday, 29 January 2019 17:57
Tripura East Parliamentary Constituency 2019, Tripura East Lok Sabha Constituency Details, Political News Tripura East, Tripura Lok Sabha Elections 2019 News Updates, Tripura Parliamentary Constituency details 2019, Tripura East MP, Issues Political Analysis 2019: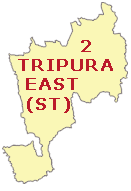 About the Constituency:
One of the two constituencies of the state of Tripura, Tripura East Lok Sabha Constituency came into existence before the 1951 elections and it is reserved for the ST category. The Tripura East Lok Sabha Constituency (constituency number 2) consists of 988,466 number of electorates in totality, of these 505,117 are males and 483,349 are females as the Election commission of India 2009 data suggests.
Assembly Segments:
It has 30 Vidhan Sabha segments.
Names of Assembly Constituencies

Ramchandraghat (ST)

Sabroom

Fatikroy

Khowai

Ampinagar (ST)

Chandipur

Asharambari (ST)

Birganj

Kailashahar

Pramodnagar (ST)

Raima Valley (ST)

Kurti

Kalayanpur

Kamalpur

Kadamtala

Krishnapur (ST)

Surma (SC)

Dharmanagar

Teliamura

Salema (ST)

Jubarajnagar

Hrishyamukh

Kulai (ST)

Pencharthal (ST)

Jolaibari (ST)

Chhawmanu (ST)

Pani Sagar

Manu (ST)

Pabiachhara (SC)

Kanchanpur (ST)
About Tripura East:
Tripura is the third smallest state of India, covering an area of 10,491 sq km. It shares its borders with Bangladesh, Assam and Mizoram. Over 19 tribes, indigenous to the North East reside here. Bengali, Kokborok and English are the prevalent languages here. Agriculture is the primary economic activity here followed by trade and industrial manufacturing. Pisciculture and the handloom industries are also well developed here. The National Highways of NH-44 and NH-44A connect the state to a major road network.
Demographic Pattern:
As per 2011 census data, the state has a total population of 3,671,032 with male population of 1,871,867 and female population of 1,799,165. It is the second most populated state in the North Eastern area after Assam. It has a sex ratio of 961 females for every 1000 males. The population density here is 350 per sq km. The average literacy rate here is 87.75%. Almost 70% of the population is occupied by Bengalis. About 86% of the population is Hindu.
A Look: Sitting MP:
| | |
| --- | --- |
| Name of MP | Baju Ban Riyan |
| Age | 72 |
| Nature of Membership | Elected |
| Term | 18-May-09 to In office |
| Political Party | Communist Party of India (Marxist) |
| Gender | Male |
| Educational Qualification | Graduate |
Performance in the 15th Lok Sabha:
| | |
| --- | --- |
| Debates participated | 6 |
| Private member bills passed | 0 |
| Questions asked | 0 |
| Attendance | 85% |