Narendra Modi may contest from Varanasi and Ahmebadad East, LK Advani from Gandhinagar,Yashwant Sinha,Varun Gandhi,Sushma Swaraj ,Saran Bihar ,Saffron,Rajnath Singh, Rajiv Pratap Rudi,Kalyan singh,Shatrughan Sinha
Details

Parent Category: Political News
Last Updated:

Thursday, 22 January 2015 20:55
Narendra Modi may contest from Varanasi and Ahmebadad East

NEW DELHI: Narendra Modi from Varanasi and Ahmebadad East, Rajnath Singh from Lucknow, Murli Manohar Joshi shifts from Varanasi to Kanpur, LK Advani from Gandhinagar, Kalyan Singh from Etah — that's the all-but-final BJP plan for its biggest leaders in Election 2014.
Senior BJP leaders to get a sense of the party leadership's views on big name candidate selection. These seat plans were confirmed by them. One senior leader said, "Last-minute changes can never be ruled out...but as of now these are our decisions." No leader was willing to speak on record for this report.
Questions sent by ET to Rajnath Singh and Amit Shah didn't elicit any response. Joshi, his aides said, was not available for comment. An aide of Advani said ticket decisions are for the central poll panel to announce.
Names of Modi and other heavyweights may not figure in Saturday's BJP candidate list. Senior party leaders said candidates for Uttar Pradesh may not be declared or even if some seats do figure in the list, those earmarked for party heavyweights will be most likely formally announced on March 13.
BJP leaders ET spoke to said Modi's candidature from home state Gujarat and a "high-profile" UP seat would serve the purpose of both the assurance of home ground advantage for Modi and enthusing.
BJP cadre in the crucial state of UP
"Varanasi is symbolically a big seat for BJP in UP...Modi's candidature will make BJP's UP mission that much stronger," a leader said. If Modi picks Ahmedabad East, which includes Maninangar, Modi's assembly seat, Harin Pathak, the sitting BJP MP, will be shifted out.

Also Read:- Lok Sabha 2014 Updates| Opinion poll |Candidate list for upcoming elections|Election Schedule| National News  
ET has learnt there was considerable discussion and debate about shifting Joshi out of Varanasi but that "the matter has been settled now".
Joshi, the sitting MP from Varanasi, will likely move to Kanpur. There have been reports of local disputes in Varanasi over the Modi/Joshi candidature question.
Lucknow for Rajnath Singh is another crucial choice BJP has all but made final. BJP leaders said Aam Aadmi Party's threat in Ghaziabad, UP, Singh's current constituency, and the prestige associated with the BJP president and former UP chief minister contesting the Lucknow seat are the reasons for the switch.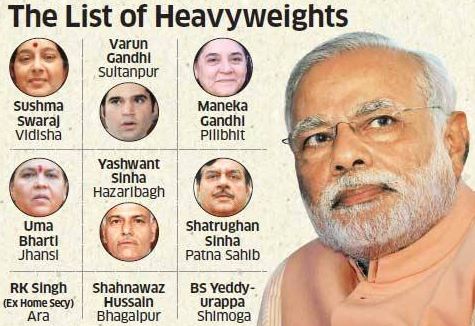 Advani, a BJP leader said, "will not be disturbed and will contest from Gandhinagar". Advani has publicly spoken about his wish to fight polls from the Gujarat seat.

Another high-profile seat that BJP has almost finalised is Etah in UP for Kalyan Singh, who returned to the saffronBSE 0.00 % party for the third time on March 2. BJP leaders said Singh'  
return to BJP was conditional on getting Etah, which he represents as an Independent.
Among other heavyweights and prominent names whose constituencies are more or less decided are Sushma Swaraj (Vidisha, Madhya Pradesh), Yashwant Sinha (Hazaribag, Jharkhand), Ananth Kumar (Bangalore South, against Congress' Nandan Nilekani), Rajiv Pratap Rudi (Saran, Bihar, against RJD's Rabri Devi), Varun Gandhi (Sultanpur, UP) and Maneka Gandhi (Pilibhit, UP).
Source: Economic times