Left Front and Trinamool Congress announce list of candidates for Lok Sabha polls in Tripura,Lok Sabha polls: Trinamool bets big on first-timers,Trinamool-Congress,Trinamool-Chief,Lok-Sabha,Congress,LokSabhapolls , LokSabha, LSPolls, LokSabha2014, IndianE
Details

Parent Category: Political News
Last Updated:

Thursday, 22 January 2015 20:54
Left Front and Trinamool Congress announce list of candidates for Lok Sabha polls in Tripura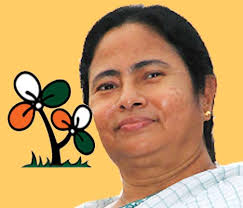 KOLKATA: Given the fact that Trinamool Congress is all set to contest 41 Lok Sabha seats in Bengal, it would need to field 14 more candidates than the 27 it had fielded in 2009 Lok Sabha polls. Not only 14 new faces, Trinamool Congress will nominate more first-timers. The first-timers' list includes yesteryear cinestars — and at least one from the present crop — physician, news anchor, academic, artist and even players. The list will also have battle-hardened politicians.
The backdrop isn't hard to understand. The defections in Diamond Harbour and Jadavpur Lok Sabha seats with Somen Mitra joining Congress and Kabir Suman severing his Trinamool ties, have reduced the list of sitting Trinamool Congress Lok Sabha MPs to 17. According to sources, Trinamool is taking a long hard look at this list.
The fate of few MPs such as Gobinda Naskar, Haji Nurul, Sucharu Haldar, Tapas Pal and Dinesh Trivedi has become uncertain. Sources claimed Saugata Roy (who won by a mere 2.1% votes in 2009) isn't keen to contest again from Dum Dum and has sought for a "change." These likely changes in the list of 17, in addition to 24 more Lok Sabha seats Trinamool intends to contest, will ensure a sizeable number of first timers in its candidate list.
Mamata is also keen on accommodating those candidates who lost the 2009 Lok Sabha polls by a slender margin. For instance, Trinamool candidate from Balurghat Biplab Mitra, who lost by only 5,000 votes, may be offered a ticket for the coming Lok Sabha polls. Apart from Mitra, two others - Dipak Kumar Ghosh in Midnapore (who lost by less than 5%) and Shantiram Mahato in Purulia (who also lost by around 5% votes) - may be given a chance to contest the polls.

Also Read:- Lok Sabha 2014 Updates| Opinion poll |Candidate list for upcoming elections|Election Schedule| National News  
First list of candidates for Lok Sabha elections 2014

West Bengal

 

 

S.No.

Name of the Constituency

Name of the Candidate

1

Coochbehar

Renuka Sinha

2

Alipurduars

Dasharath Tirkey

3

Jalpaiguri

Bijoy Bhusan Barman

4

Darjeeling

Baichung Bhutia

5

Raiganj

Satyarajan Dasmunshi

6

Balurghat

Arpita Ghosh

7

Maldaha Uttar

Soumitra Roy

8

Maldaha Dakshin

Dr. Moajjim Hussein

9

Jangipur

Haji Nurul Islam

10

Baharampur

Indranil Sen

11

Murshidabad

Mohammad Ali

12

Krishnanagar

Tapas Pal

13

Ranaghat

Saugata Barman

14

Bongaon

Kapil Krishna Thakur

15

Barrackpore

Dinesh Trivedi

16

Dum dum

Saugata Roy

17

Barasat

Kakoli Ghosh Dastidar

18

Basirhat

Idrish Ali

19

Joynagar

Pratima Naskar

20

Mathurapur

CM Jatua

21

Diamond Harbour

Abhishek Bandyopadhyay

22

Jadavpur

Sugata Bose

23

Kolkata Dakshin

Subrata bakshi

24

Kolkata Uttar

Sudip Bandyopadhyay

25

Howrah

Prasun Banerjee

26

Uluberia

Sultan Ahmed

27

Serampore

Kalyan Kumar Banerjee

28

Hooghly

Dr Ratna De

29

Arambagh

Aparupa Poddar /Afreen Ali

30

Tamluk

Suvendu Adhikari

31

Kanthi

Sisir Adhikari

32

Ghatal

Deepak Adhikary

33

Jhargram

Dr Uma Soren

34

Medinipur

Sandhya Roy

35

Purulia

Dr. Mriganko Mahato

36

Bankura

Moonmoon Sen

37

Bishnupur

Soumitra Khan

38

Bardhaman – Purba

Sunil Mandal

39

Bardhaman - Durgapur

Dr. Mumtaz Sanghamita

40

Asansol

Dola Sen

41

Bolpur

Anupam Hazra

42

Birbhum

Satabdi Roy

Tripura

 

 

S.No.

Name of Constituency

Name of Candidate

1

Tripura East

Vikuram Riyang

2

Tripura West

Ratan Chakraborty

Manipur:

 

 

S.No.

Name of Constituency

Name of Candidate

1

Manipur Valley

Sarangthem Manobi Singh

2

Manipur Hills

Kim Gangte

Jharkhand

 

 

S.No.

Name of Constituency

Name of Candidate

1

Ranchi

Bandhu Tirkey

2

Lohardanga

Chamra Linda
Source: Times of India