Details

Category: Haryana News
Last Updated:

Tuesday, 21 April 2015 14:58
Haryana Assembly election 2014 polling % Live updates
Total Votes :

16216545
Votes Polled :

11760772
Vote Polled(%) :

72.6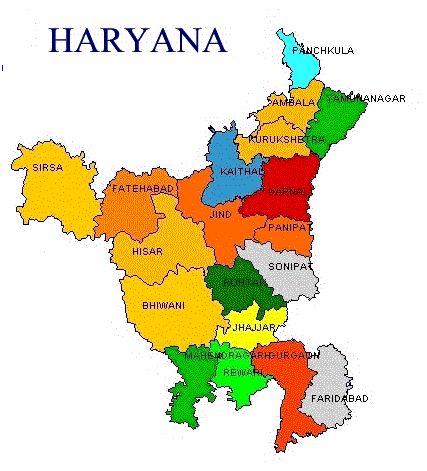 The turnout in Haryana has exceeded the 2009 voting percentage of 70.
6:09:PMThe turnout in Haryana has exceeded the 2009 voting percentage of 70.
6:09: PM Haryana records 72.6% turnout as voting ends.
6:06: PM BJP candidate in Narnaund constituency Abhimanyu complaining to the SP of booth capturing by INLD workers at Baas village in Narnaund.
BJP's Captain Abhimanyu Singh has alleged booth rigging in Hisar during Haryana assembly polls

At 75%, Kurukshetra in Haryana has recorded the highest turnout so far.
60% voting recorded in Haryana till 4pm.
60% voting recorded in Haryana till 4pm
3:40 pm: Haryana Assembly elections: 56 per cent polling in Haryana till 3:30 pm
3:40 pm: Officials say 56 percent of the Haryana's 1.63 crore electorate had voted by 3.30 pm. Kurukshetra, Fatehabad, Sirsa and Yamunanagar districts led with 61 to 68 percent of the votes being polled there.
3:00 PM: 46% voting in Maharashtra till 3 pm

2:35 pm: Sirsa records 53 percent voting, Palwal 54 percent, Panipat 47 percent, Hisar 48 percent, Karnal 45 percent, Kurukshetra 55 percent, Rewari 45 percent.
2:30 :PM About 47 percent polling was reported from Haryana till
2:16 pm:Haryana Assembly elections: 45 per cent voting till 2 pm
1:53 pm:Haryana poll per cent: 42 per cent at 1:30 pm
1:38 pm: Voting on across Haryana and Maharashtra. Both BJP and Congress claim they will Haryana and Maharashtra elections.
1:00 pm: Scuffle between INLD, BJP workers in Modia Khera village in Sirsa district of Haryana. One INLD worker injured in firing.
12:50 pm: Clashes between INLD members and workers of Gopal Kanda's HLP Party. Kanda's car damaged.
12:45 pm: Rohtak MP Deepender Hooda tells CNN-IBN, "I rule myself out as CM. The clear leadership is with Dad. Congress has made him the leader."
12:18 pm: Polling picks up in Haryana, over 31 per cent votes registered in Haryana till noon. Highest turnout seen in Kurukshetra with 37.6 per cent polling. Faridabad records 25.7 per cent voting.
12:05 pm: Haryana Chief Minister Bhupinder Singh Hooda casts his vote in Rohtak, says, "Congress will form the government in Haryana for the 3rd time." He refuted allegations of poll code violation. "I have not campaigned beyond 6 pm. Last evening I went to meet my old friends, have grown up here and have many friends here," said the CM.
12:01 pm: Haryana Ministers Randeep Singh Surjewala (Kaithal), Savitri Jindal (Hisar), Geeta Bhukkal (Jhajjar), Ajay Singh Yadav (Rewari), BJP's Chief Ministerial aspirant Capt Abhimanyu of the BJP (Narnaund in Hisar district) and INLD's Naina Chautala (Sirsa) have cast their votes till now.
12: 00 Over 25 per cent of the 1.63 crore eligible voters have exercised their franchise in Haryana till 11 am. Polling was going on at a brisk pace at places including Ambala, Bhiwani, Fatehabad, Hisar and Yamunanagar while it was comparatively slow at places like Rewari, election officials said.
11:39 am: Polling picks up in Haryana, nearly 22 per cent votes registered till 11 am.
11:05 am: Kurukshetra and Yamunanagar districts in Haryana lead in polling with nearly 20 percent and 17 percent voting.
11:00 am: INLD leader Abhay Chautala casts his vote in Dabwali, Sirsa district of Haryana
10:50 am: 14.8 percent voter turnout recorded in Haryana till 10:30 am.
10:44 am: Clashes break out between BJP and INLD supporters in Haryana's Sirsa. Two people have been injured in the firing.
10:30 am: Nearly 13.8 per cent turnout was recorded till 10 AM in Haryana.
Also Read:
10:00 am: In Haryana, the highest voter turnout till 9 am has been witnessed in Kurukshetra where 14.7 per cent people cast their votes. The lowest turnout has been recorded in Rewari at 3.8 per cent. National capital region Faridabad and Gurgaon recorded 4.9 per cent and 7.7 per cent respectively.
9:39 am: Just 2.8 per cent polling recorded in Haryana till 9 am.
9:36 am: Among the early voters were Chief Minister Bhupinder Singh Hooda, the country's richest woman Savitri Jindal, INLD candidates Naina Chautala and Dushyant Chautala, who is the Hisar MP, Haryana Janhit Congress (HJC) president Kuldeep Bishnoi, union Minister of State Krishan Pal Gurjar and former union minister Venod Sharma.
9:35 am:In Haryana, there are 1,351 candidates in the fray, including a record 116 women.
9:30 am: Prime Minister Narendra Modi urges people of Maharashtra and Haryana to cast their vote.
9:17 am: People of Sirsa district in Haryana come out in large numbers to vote.
8:45 am: Haryana's Uchana Kalan candidate Dushyant Chautala is confident that the INLD would make a comeback in these elections. "It is a Dussehra, we are facing two Ravans," he said about his rivals.
8:09 am Haryana Chief Minister Bhupinder Singh Hooda addresses press, says, "Issues in Lok Sabha elections are different from that of Assembly elections."
8:02 am: Hooda downplays Modi wave in Haryana, says issues in Lok Sabha polls are different from that of Assembly polls.
8:01 am: Hooda appeals to people to vote in large numbers to form a stable government.
8:00 am: Former Haryana chief minister Bhupinder Singh Hooda addresses media, says he is confident of Congress winning a third time in the northern state.
Haryana polls: 1.3% voting in Meham till 8 am. Voting started at 7am.
In Haryana too, the BJP junked its allies and pumped for majority on its own to dislodge Congress that had been ruling the state for the last 10 years. The polling will continue till 6 pm. Counting of votes will be held on October 19.
In Haryana, about 1.63 crore voters, including 87.37 lakh women are eligible to vote at 16,357 polling stations to decide the fate of 1,351 candidates, including 109 women.
In Haryana, the INLD campaign was led by former CM and party supremo Om Parkash Chautala, who was out on bail on health grounds after being imprisoned in Tihar Jail at New Delhi in the teachers recruitment scam.