Details

Category: Haryana News
Last Updated:

Thursday, 22 January 2015 21:06
CM Hooda sips tea, says Modi trying to be Haryana CM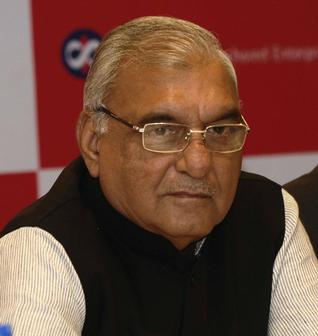 Rohtak (Haryana), (IANS) It may not have been a deliberate move to link it with Narendra Modi's ascent from a tea-vendor to being the prime minister, but Haryana Chief Minister Bhupinder Singh Hooda Wednesday started his day from a roadside tea-stall in Haryana's Rohtak town and within minutes was taking on Modi.


"I have not seen a prime minister coming and campaigning so much in a small state like Haryana. He addressed nothing less than 11 rallies. It looked as if he was trying to become the chief minister of Haryana," Hooda said here after casting his vote.

While Modi led the BJP campaign in the state from the front, the Congress largely relied on Hooda. Congress president Sonia Gandhi and vice president Rahul Gandhi could not match up to Modi in holding rallies.

Hooda, with some close aides, stopped his motorcade at a roadside tea stall here and had tea. The chief minister, who is taking a shot at a third term in office, having ruled Haryana since March 2005, said that some leaders had stooped to a new low in political discourse during the run-up to the assembly polls for 90 seats in Haryana.

"Some leaders stooped very low in this election. I can only say that we upheld the grace in politics," said a clearly upset Hooda. The Hooda government was at the receiving end from the BJP and the Indian National Lok Dal (INLD) for land scams and large-scale corruption allegations. Hooda and the Congress are facing an uphill challenge in this assembly election with the BJP and INLD clearly in the lead over the Congress.
***
Among the early voters Wednesday were Chief Minister Bhupinder Singh Hooda, the country's richest woman Savitri Jindal, INLD candidates Naina Chautala and Dushyant Chautala who is the Hisar MP, Haryana Janhit Congress (HJC) president Kuldeep Bishnoi, union Minister of State Krishan Pal Gurjar and former union minister Venod Sharma.

Most of the leaders were accompanied by their family members to the respective polling stations.

Savitri Jindal, who is the Congress candidate from the Hisar assembly seat, was accompanied by family members to the polling station.
***
Hooda appeared, or at least he was portraying that, to be completely relaxed on polling day. Hooda, who plays tennis and badminton regularly, reached a sports complex here and played a game of badminton.

"I play tennis regularly which is my game. However, today I played badminton as I could not go to a tennis court," said Hooda dressed in track pants and T-shirt.
***
In the past 24 hours before balloting began, a political war started on regional news channels over a leading sect extending its support to the BJP. The Congress and the INLD were clearly upset by the sect's move to support the BJP in the assembly elections.