Uttarakhand Election Results Live 2017 Party Constituency Wise Vote Margin Assembly, Lok Sabha, Municipal, Panchayat, Bye Election Results
Uttarakhand Assembly Election Result 2017 Constituency Wise, Uttarakhand Assemby Election 2017 Winner List, Uttarakhand Vidhan Sabha Result Winner Party and Winner Candidate List 2017, List of Uttarakhand Assemby MLA 2017, Uttarakhand Election 2017 Result
Details

Parent Category: Election Results
Last Updated:

Thursday, 07 July 2016 12:12
Uttarakhand Assembly Election Result 2017 Constituency Wise, Uttarakhand Assemby Election 2017 Winner List, Uttarakhand Vidhan Sabha Result Winner Party and Winner Candidate List 2017, List of Uttarakhand Assemby MLA 2017, Uttarakhand Election 2017 Result, Uttarakhand vidhan sabha members, Uttarakhand Vidhan Sabha result 2017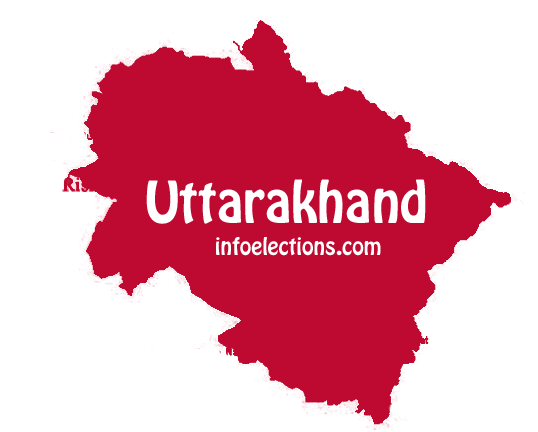 A Legislative Assembly election will be held in 2017 for the 70 seats of the Vidhan Sabha in the state of Uttarakhand in India. The dates of the election are yet to be announced, as of November 2016.
Indian National Congress is ruling party of Uttarakhand and opposition party is Bharatiya Janta Party.
Other Imp. Links:
--Click here for Uttarakhand Schedule 2017
--Click here for Uttarakhand Opinion poll 2017
--Click here for Uttarakhand Candidate List 2017
--List of Uttarakhand polling booth
UTTARAKHAND Assembly Election Result 2012
Party

Seats Contested

Seats Won

% Votes

INC
70
33
33.79
BSP
70
3
12.19
Independents
70
3
12.34
UKD (P)
44
1
1.93
BJP
70
30
33.13
Total
70
Click on individual constituencies to know to get compiled Past election Results ,swing Margin, Candidates Details, MLA details , Polling Station, Voter List of each assembly.