Details

Category:

Bihar Political News

Last Updated:

Saturday, 03 August 2019 15:43
Bihar Assembly Election 2020 Seat Prediction
If we analyze the 2019 Lok Sabha Election Result, then we can easily predict that BJP and JDU parties are maintaining a strong hold in Bihar Assembly for the upcoming assembly elections that will be held in the starting of the year 2020, but voters may have their different opinion in Assembly & parliamentary elections. There are some different issues and criteria on which state elections are based and on which voters have a look.
ALSO READ: Best Opinion Poll Company in India
After the extensive analysis, we observed that there is a neck to neck competition between two major parties, BJP & JDU, these parties have a strong hold in the state. There is no other party in the state for the competition. If we say about the number of seats predicted for each party, then, we can predict that BJP may win on 96 seats out of 243 in the state, JDU may get 92, LISP may get 35 seats, RJD may get 9 seats and INC may get 5 seats in the assembly elections. All other parties like AIMIM, HAM(S), CPI & RLSP are nowhere in the state.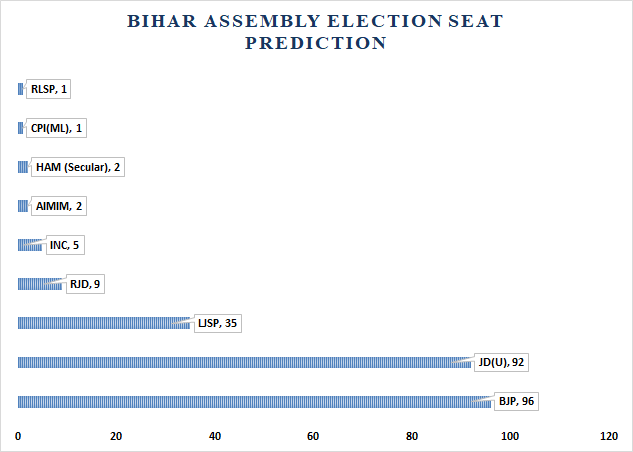 However, there is a positive blow for Bharatiya Janata Party (BJP) & Janata Dal-United (JDU) in the upcoming Assembly Elections 2020. There is a tough competition between these two parties in the state. To make a strong hold among the voters of your constituency, you can hire an Election Campaign Company for the best political services that helps you to make your position strong in the state.