Austrian presidential election 2016 (second round) 22nd May 2016 Live Updates news key candidates,Austrian Election Results Live Updates 2016 schedule dates opinion poll candidates Austrian polls, austrian presidential elections, austria elections 2016, Federal Elections austria, far right results, Austrian presidential election polls first second round
Electoral System
The President of Austria is directly elected by universal adult suffrage once in every six years. The election is held under a two-round system; if no candidate receives more than 50% of votes cast in the first round, then a second ballot occurs which only those two candidates who received the greatest number of votes in the first round may stand.
Election Results for Round 2
First results will be out at around 15:00 UTC with final results set to be announced on Monday after all postal votes have been tallied.
Alexander Van der Bellen defeated Norbert Hofer on 23 May 2016 after the postal ballots were counted.

Total Turnout of 22 May 2016 (second round) is 72.75%.

Alexander Van der Bellen has won Austria's presidential election, preventing Norbert Hofer from becoming the EU's first far-right head of state.

Mr Van der Bellen, a pro-EU independent backed by the Greens, beat Mr Hofer by just 31,000 votes among the 4.64m cast.

The president-elect vowed to address the "divisions" among Austrians that the poll had "made visible".

Mr Hofer's campaign had targeted anti-EU feelings and fears about migrants. He said his defeat was a "sad day".
According to Interior Ministry **
Austrian presidential election, 2016 22 May 2016 (second round

)

Candidate

Party

Popular vote

%

Alexander Van der Bellen

Independent (Member of theGreens)

22,54,484

50.35%

Norbert Hofer

FPO

22,23,458

49.7%
Current Latest Election Results updates
A record 14 percent of Austria's 6.4 million eligible voters will be casting their ballots by mail this year and could prove to be a tie-breaker in an expectedly tight race.

As per the Opinion Polls Trump of Austria Norbert Hofer has a strong support due to his Anti Immigrants stand and could be a probable winner and president of Austria.

Second Round of Elections to be held on 22nd May 2016 between 1st and 2nd candidates of round 1 i.e between Norbert Hofer and Alexander Van Der Bellen and the one who receives more than 50 % votes would be the winner.

In the First Round Norbert Hofer of the Freedom party(FPO) came a clear first with 36% of the vote in the first round of elections

The 72-year-old independent backed by the Greens, Alexander Van Der Bellen, came in second with 21 per cent.
The constitution grants the president the power to appoint the head of the federal cabinet and, by extension, federal cabinet ministers, Supreme Court justices, military officers, and most major bureaucrats. The president may dissolve the National Council. In practice, however, the president acts, for the most part, as a ceremonial figurehead.
---
Candidates
Freedom Party of Austria (FPO)
Norbert Hofer, who serves as the Third President of the National Council, had been considered the most likely FPÖ candidate
Norbert Hofer:
Age: 45

Background: Aeronautical engineer

Politics: Far-right Freedom Party
Austrian People's Party (ÖVP)former first president of the National Council Andreas Khol was announced as the ÖVP's candidate.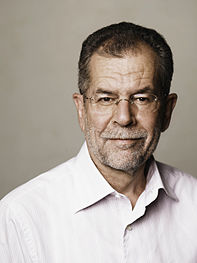 The Greens – The Green Alternative Former Greens party leader Alexander Van der Bellen is being
supported by Greens.
Alexander Van der Bellen:
Age: 72

Background: Economics professor

Politics: Former Green Party leader
Voter Statistics
---
According to the federal election commission, 6,382,507 Austrian citizens aged 16 or over are eligible to vote in the presidential election. Compared with the 2010 presidential election, the number of eligible voters increased by 26,707 – or 0.4% . There are 3,301,628 women and 3,080,879 men eligible to vote. 42,830 Austrians living abroad are also included in these numbers as being eligible to vote. 641,975 absentee ballots were issued, up from 373.902 in 2010.
Eligible voters by state: Burgenland: 232,028 Carinthia: 440,435 Lower Austria: 1,283,676 Upper Austria: 1,099,420 Salzburg: 393,583 Styria: 969,487 Tyrol: 540,132 Vorarlberg: 269,940 Vienna: 1,153,806
Opinion Polls
Austrian presidential election, 2016 Second round Opinion Poll by Gallup/Österreich

Norbert Hofer (FPO)

53

Alexander Van der Bellen (Greens)

47

Sample size 600
---
Here's the Summary of the 1st Round of 2016 Austrian presidential election results
Chart of first-round vote

Candidates (nominating parties)

1st round (official results)

2nd round (22nd May)

Votes

%

Votes

%

Norbert Hofer (Freedom Party of Austria)

14,99,971

35.1

Alexander Van der Bellen (The Greens – nominallyindependent)

9,13,218

21.3

Irmgard Griss (independent)

8,10,641

18.9

Rudolf Hundstorfer (Social Democratic Party of Austria)

4,82,790

11.3

Andreas Khol (Austrian People's Party)

4,75,767

11.1

Richard Lugner (independent)

96,783

2.3

Valid votes

42,79,170

100

100

Invalid votes

92,655

2.1

Total votes

43,71,825

68.5

Eligible voters

63,82,507