Lanka presidential elections on schedule despite floods: EC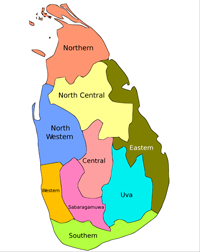 Sri Lanka's elections commission has said that presidential election would be held on schedule in despite landslide and floods that have claimed 24 lives.
"No candidate, their representative or lawyers has complained or requested in this regard to the department," the election commissioner Mahinda Deshapriya was quoted in the Daily Mirror as saying yesterday.
However, the distribution of official ballots for the January 8 election has been extended keeping in mind the vagaries of the nature, the Election Secretariat said today.
The distribution of ballots has been extended till January 3, it said. The process which started on November 22 was due to end on December 31.
Disaster Management Authorities yesterday said that at least 24 people have been killed and eight others were reported missing due to mudslides and floods triggered by heavy rains over the past week.
src:business-standard