Japan elections: Abe thanks voters for their "confidence"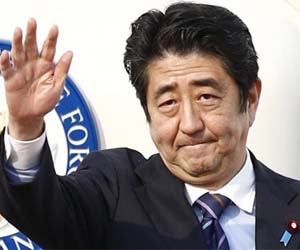 Tokyo, (IANS/EFE) Japanese Prime Minister Shinzo Abe thanked voters for their "confidence" in his leadership Sunday as the ruling coalition was projected to control two-thirds of the seats in the lower house. "I want to thank the people who voted for us for their confidence. Thanks to them, we can keep the current administration and continue our work," said Abe.
Abe also told NHK radio that the electoral results showed people's support for "Abenomics" -- his economic recovery strategy. The preliminary vote count provided by NHK gives the governing Liberal Democratic Party (LDP) at least 271 of the 475 seats in the lower house of the parliament, compared to the Democratic Party's 60 seats, which means that according to the radio network's projections, the governing party would garner an absolute majority.
Abe, however, expressed caution and said that the definitive electoral results have still not been released, although he said he was confident that his party and Komeito "are going to obtain the necessary majority to govern". The premier said that the priority for his new mandate would be "doing everything possible so that the economy recovered," as well as strengthening Japan's "diplomatic relations and security."