Malaysia Opposition to Challenge Election Results, Malaysia  opposition leader Anwar Ibrahim Challenge Election Results, Latest Malaysia election Result Update, Malaysia News, Malaysia Latest Election update, Malaysia Update.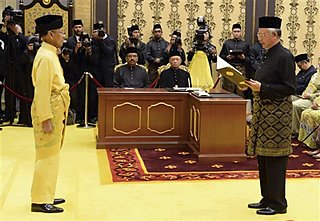 Malaysian opposition leader Anwar Ibrahim pledged Tuesday to mount a "fierce movement" to challenge what he called fraudulent election results that kept the country's long-ruling coalition in power, although with a diminished majority.
The opposition's refusal to accept the outcome could complicate efforts to restore political certainty to a country where millions of voters pushed for an end to the National Front coalition's nearly 56-year rule because of accusations of government graft and racial insensitivity.
Before Sunday's vote, the 65-year-old Anwar had said he would retire from politics and focus on a teaching career if the opposition lost. On Tuesday, he said the unfairness of the election compelled him to remain to combat what he considered an "illegitimate" government.
"In the context of a free and fair election, if the people decide to choose the National Front, I would concede," Anwar told a news conference. "In a faulty and fraudulent election, I now will continue the fight to defend all Malaysians."
The National Front denied manipulating the vote. Prime Minister Najib Razak's office issued a statement Tuesday criticizing the opposition for making "a host of unsubstantiated allegations."
Opinion polls before the elections "showed significant support for both the prime minister and his ruling party and suggested they were on track for a victory," the statement said.
Najib's National Front captured 133 of Parliament's 222 seats, down slightly from the previous 135. But it lost the popular vote, polling 5.24 million votes to the opposition's 5.62 million.

Many opposition supporters believe the National Front not only relied on gerrymandering of constituencies to win but also used bogus ballots at closely fought constituencies and foreign migrants from countries such as Bangladesh to vote illegally.
Opposition teams have been formed to gather evidence of irregularities and would explore legal measures to dispute the results of at least 29 seats, Anwar said.
He said a campaign to raise public support will start with a stadium rally near Kuala Lumpur on Wednesday night, but indicated there were no plans for street demonstrations.
"This shall be a beginning for a fierce movement to clear the country from election malpractices and fraud," Anwar said. "It is therefore a dictate of our conscience to reject the election result until it is rectified."
In Washington, the U.S. State Department recognized the election result, calling it the "most competitive" in Malaysia's history, although it did acknowledge the allegations of irregularities.
Najib was meeting with National Front officials Tuesday amid efforts to form a Cabinet to lead with a five-year mandate. Several Cabinet ministers lost their seats in Sunday's vote.
The prime minister must contend not only with a disgruntled opposition, but also with of a flood of criticism on social media against him. He has said his priorities include a "national reconciliation" program to mend the rifts, but no details have been revealed.
On Monday, Najib blamed the coalition's weaker showing in key constituencies on a lack of support from ethnic Chinese, Malaysia's second-largest ethnic group. He called it a "Chinese tsunami," and the influential Malay-language Utusan Malaysia newspaper, owned by Najib's ruling party, published a front-page report Tuesday with the headline, "What more do the Chinese want?"
However, many analysts say the National Front lost ground mainly among urban, middle-class voters who comprise the Malay Muslim majority, ethnic Chinese and other races. Its electoral support came largely from rural districts where government handouts have helped poorer citizens whom the opposition failed to convince with its pledges of creating a cleaner government.
source:http://abcnews.go.com