Details

Category: Telangana News
Last Updated:

Saturday, 08 September 2018 11:31
Telangana Rashtra Samiti has 3 reasons to hold polls early in Telangana election
Political Services Download latest voter list Booth wise
New Delhi: Telangana Rashtra Samiti chief K Chandrasekhar Rao's pitch for advancing the assembly elections has prompted the Opposition especially Congress to understand the CM s plot of de-linking the assembly polls from Lok Sabha elections.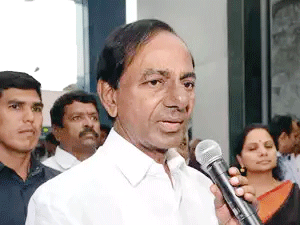 Even though KCR has left everyone guessing on whether he would opt for early polls, political circles have managed to read two signals from the CM moves: His decision to convene a meeting of the state cabinet on Thursday could be to recommend the assembly's dissolution.
A day later KCR has convened a mega event at Husnabad . The place from where he launched the TRS election campaign in 2014 to launch the first of the 100 Pracha Ashirwad mass contact programmes as part of his campaign plank.

While deciding the poll dates is The Election Commission prerogative Telangana politicians including the Opposition think the Centre will not spoil friendly ties with Rao.

They see three reasons for KCR to delink assembly polls from the Lok Sabha elections: Opposition parties are not yet fighting fit in Telangana and the CM would want to deny them time to get their act together.

This is important as TRS is wary that the traditional turf rivals Congress and TDP may work out an unconventional regrouping like SP-BSP by the time LS polls are due after TDP voted along with the Congress in the no-confidence motion and Rajya Sabha deputy chairman election recently.
Secondly they say KCR would prefer to have assembly elections along with Rajasthan and MP and Chhattisgarh and Mizoram as a Congress victory in any of the BJP states may result in the Telangana Congress putting up a big fight during the Lok Sabha polls. when simultaneous polls to Telangana are due.

Thirdly: TRS in direct or indirect alliance with Asaduddin Owaisi's AIMIM, may be in a better position to secure around 12% minority votes if assembly .

polls are not held simultaneously with LS polls when the Modled BJP campaign for a second term and TRS perceived closeness to the Centre may prompt minority voters to prefer the Congress-led Opposition.