Political Survey and Research
Political Consulting India, Political Survey India, Opinion Poll India, Exit Poll, Election Campaigning Campaign Management India For Lok Sabha Elections, Assembly Elections, Legislative Elections .
Leadtech is the Top Best Political Campaign Management Companies Firms India. It provides Political Campaign Management, Election Campaign Management, Political Consulting, Political Survey, Opinion Poll, Exit Poll, Constituency Profiling, Election Management and Political Campaigning for lok Sabha Elections, Assembly Elections, Legislative Elections.

We also Provide Voter Relationship Management (VRM) software and Mobile App. It contains all minute level details of the study in one place. We have a varied clientbase consisting of Political parties as well as individual MP's, MLA's and aspirants. Instead of promising a hypothetical winning formula we equip our clients with tools and services to manage their day to day activities and help them in thorough and meticulous preparation for elections. This approach enables them to get a crystal clear picture of their own strengths to be consolidated further and weaknesses to be improved upon.
Team: Our Founders are from IIT Bombay. Our team consists of graduates and post-graduates from top institutes including IIT and NIT for the software development, and analytical work, post-graduates and PhDs. to manage the political, social and economic research work, post graduates from leading colleges of MCA to manage the database collected from the field, and data collection is done by the the people graduated from leading institutes of Mass Communication and Political Science. We have already served more than 1500 clients that include national parties, individual candidates and regional parties in almost whole of India. We have wored in almost all states in India like Andhra Pradesh, Telangana, Maharashtra, Karnataka, Haryana, Madhya Pradesh, Chattisgarh, Rajasthan, Meghalaya, Tripura, Punjab, Uttar Pradesh, Gujarat, Delhi, Jharkhand, Assam, Himachal Pradesh, J&K, Goa, West Bengal, Bihar. We have done our research for Assembly Elections, Lok Sabha Elections, Municipal Corporation Elections.
---
Political Election Campaign Management Services Offered
---
Election Political Campaign Managament Details Methodology

Methodology: A field research will be carried out in the constituency at the Polling Booth level.
The questionnaire will focus on the following parameters:
Political Developmental aspects:
Image of the Leaders Political Campaigning
Image of the Parties
Election Opinion Poll
Important Issues.
Party Network.
Caste Equation
Overall Ranking and Satisfaction
---
Political Campaign Management Reports Deliverables
After the Work Completion we provide various kinds of reports and provide a complete strategy to win the Elections. We Suggest appropriate services at the right time to help our clients take correct step and the right time.
Analytical Ground Research Report- With All indepth Analysis.
Strategy Formation - Personalized Political Consulting by 12 year experienced team.

Mobile App Or Desktop Application - Latest Mobile Application to see all data on the go.

Prominent Social Media Presence - Connecting to the youth of your constituency.
ØWe can also start E-CAMPAIGN as soon as possible with the help of emails, websites, blogs and SMSes to influence those who are opinion makers.
In case of any clarifications, please feel free to contact us.
---
Political Consultants Details
Vivek Singh Bagri
Director,
Leadtech Management Consulting P L, Gurgaon
Call Us to get a quote and Servies we can Offer
Cell: 09650060882, 0124 – 4113381
Email: This email address is being protected from spambots. You need JavaScript enabled to view it.
This email address is being protected from spambots. You need JavaScript enabled to view it.
Visit us at www.leadtech.in
806, Tower B, Spaze IT Park, Sector-49, Sohna Road, Gurgaon, Haryana, 122003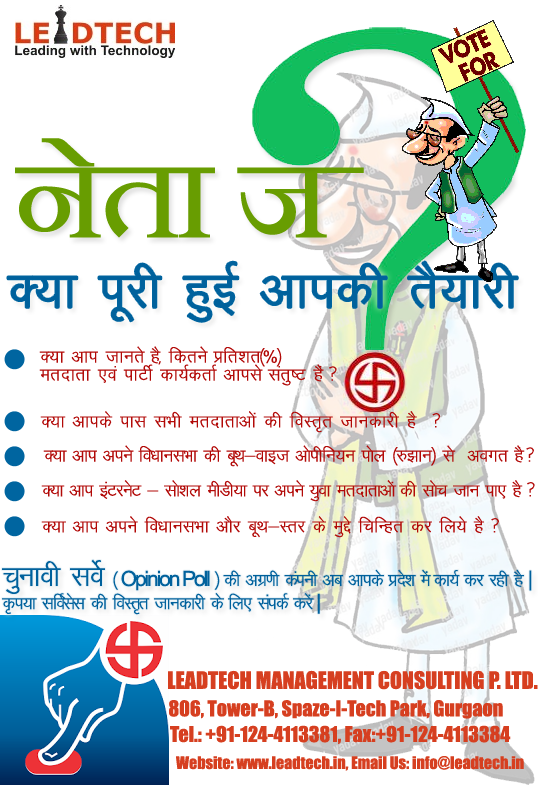 Subcategories
Door to Door Compaign and Survey

Door to Door Survey of each household in the constituency:
Our team will visit each and every household with the voter list to verify each name in the voter list. We will collect and provide following details of each household:

Opinion poll for party and candidate preference of each voter

Identification of Issues and expectations

Name of the existing voters & father's/Husband's

Addition of the New voters to be added in the voter list

Deletion/Omission of the non-existing voters (Dead/fake)

Correction of names/Photo/Address/Father name

Caste of each voter

Mobile/Landline number of the Voters

Address of the household

Head of the family name and Phone no

Article Count:

1