Assembly Election Opinion/Exit Poll, Survey Result, Who will win in Assembly Elections 2016
Details

Category: Opinion Poll
Last Updated:

Thursday, 22 January 2015 20:54
The ruling Samajwadi Party (SP) is projected to get just 11-17 seats. The BSP led by Mayawati is also facing a near rout with the survey giving it just 8-14 seats. The Congress, which came second in the last elections, is projected to get just 5-9 seats. Others are expected to win 1-5 seats if the elections are held today.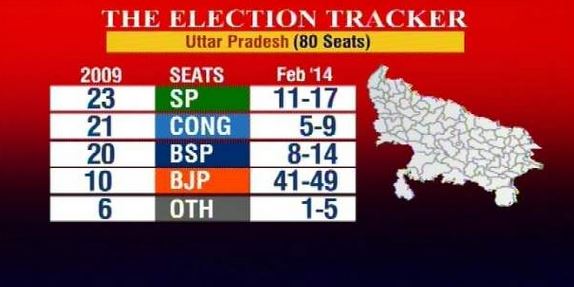 Uttar Pradesh State Specific Findings
Fieldwork from Feb 17-23, 2014
Survey in 39 Lok Sabha seats
Targeted sample size - 3500
Achieved sample size - 2860
Vote Share
The BJP is showing signs of huge improvement in UP. According to the election tracker, the party has doubled its vote share in the last 5 years. In 2009, it polled just 18 per cent votes. It has now gone up to 36 per cent votes in India's most populous state. Even though the ruling SP seems to have lost just 1 per cent votes compared to its 23 per cent share in 2009, it is expected to lose more seats this time. The BSP which got 28 per cent votes in 2009 is expected to garner just 17 per cent votes this time. The Congress is likely to get 13 per cent votes. The AAP is expected to get 5 per cent and Others to get 7 per cent.
BJP continues to do exceedingly well among the upper castes and section of the OBCs, although support among them has declined somewhat since the last survey in January. Among the Brahmins 62 per cent, among the Rajputs 54 per cent, among the Jats 45 per cent and among the middle and lower income groups 48 per cent are likely to back the BJP. The Samajwadi Party seems to have regained some lost ground among Muslims compared to the January survey. 47 per cent Muslims respond that they will vote for the SP. Among the Muslims, 24 per cent opt for the Congress, 13 per cent for the BJP, 9 per cent for the AAP and just 6 per cent for the BSP.
The AAP is doing well only Western UP. It is expected to get 20 per cent votes there.

Also Read:- Lok Sabha 2014 Updates| Opinion poll |Candidate list for upcoming elections|Election Schedule| National News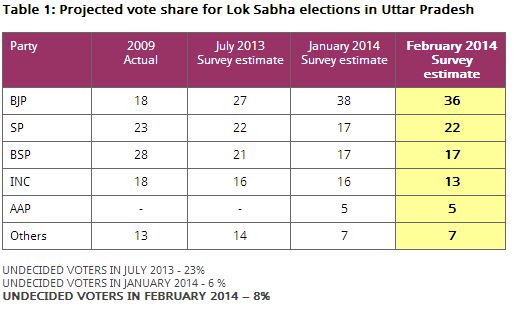 NARENDRA MODI LEADS PM RACE
BJP's PM nominee Narendra Modi is leading the PM race with 34 per cent backing in UP. In January it was 35 per cent. Rahul Gandhi has got 11 per cent backing. In last January, it was 12 per cent for him. BSP Supremo Mayawati has got 11 per cent support and SP chief Mulayam Singh Yadav has got 10 per cent support for the post of PM. Nearly half the respondents said Modi should contest polls from UP. This sentiment is the strongest in Eastern UP (54 per cent) and the weakest in Ruhelkhand (29 per cent).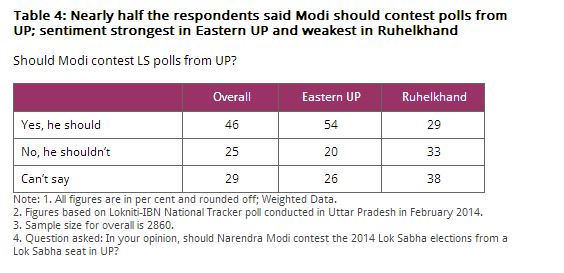 ALLIANCES
Two in five SP and BSP voters are supporting an alliance with the Congress in the Lok Sabha elections. Overall 22 per cent respondents back the idea.
AKHILESH LOSES MORE SUPPORT
The people's report card of Akhilesh Yadav's government is even more negative than it was seven months ago. However, overall satisfaction level with the SP government remains the same as it was in July 2013. It is still 49 per cent.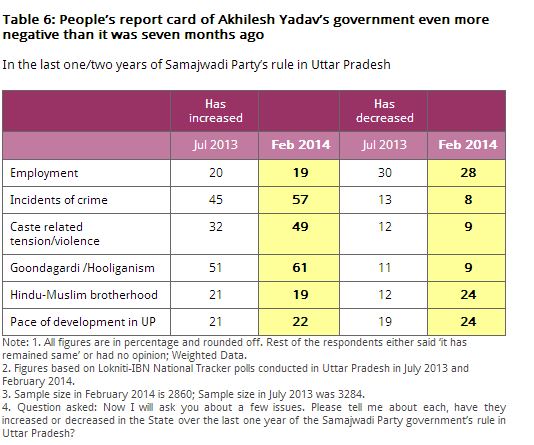 ON UPA and PM
Interstingly for the first time in seven months, the UPA government has been rated more positively than negatively in UP. 47 per cent respondents are satisfied with the UPA and 42 per cent are dissatisfied. Prime Minister Dr Manmohan Singh's performance as the PM has also rated more positively than negatively. He, too, has 47 per cent satisfactory votes and 41 dissatisfactory votes.
Although the UPA's governance ratings have improved in Uttar Pradesh, most people in the state are still unwilling to give it another chance. Mere 24 per cent respondents are ready to give it another chance as against 53 per cent not willing to re-elect the Congress at the Centre.
Source: IBNLive,Lokniti,CSDS