Assembly Election Opinion/Exit Poll, Survey Result, Who will win in Assembly Elections 2016
Details

Category: Opinion Poll
Last Updated:

Thursday, 22 January 2015 20:54
India Today Mood of the Nation:NDA leading in Maharashtra,Congress: 09, BJP: 14, Shiv Sena: 14, NCP: 05, RPI: 02, MNS: 02, Swabhimani Paksha: 01, AAP: 01


Congress tally set to crash in a state that has been its traditional stronghold.
MNS voters likely to vote for Modi in Lok Sabha elections and for Raj Thackeray in Assembly elections.
Performance in state will play important role in determining Modi's overall national tally. It's the most important state for NDA after UP.
Congress crippled by double anti-incumbency operating against state and central governments.
AAP will be in contention in Pune and a couple of seats in the Mumbai region.
NCP facing trouble even in their strongholds of western Maharashtra.
Entry of RPI & SSP into NDA is making the contest virtually bipolar on most seats.
Raj Thackeray not as big a factor as he was in 2009 Lok Sabha polls.
In Vidarbha, NDA likely to register impressive numbers.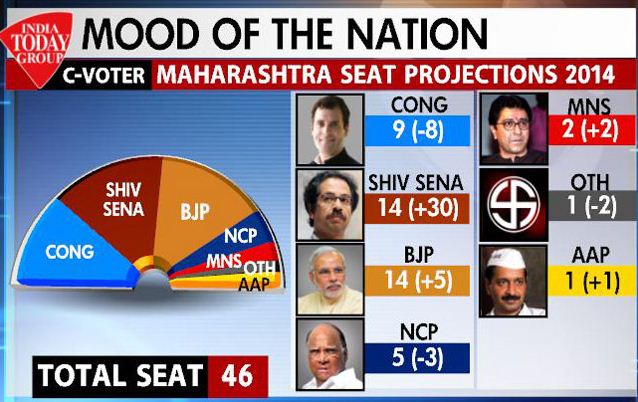 Also Read:- Lok Sabha 2014 Updates| Opinion poll |Candidate list for upcoming elections|Election Schedule| National News  
Source:India Today