Ask Shiv Sena: Why is Sharad Pawar silent on nephew Ajit's crass remarks, why NCP chief Sharad Pawar was "silent" on the issue of the controversial remarks ask shiv sena, Maharashtra News, Maharashtra News update, Maharashtra latest political update.
The Shiv Sena today asked why NCP chief Sharad Pawar was "silent" on the issue of the controversial remarks made by Maharashtra Deputy Chief Minister Ajit Pawar on drought and load shedding.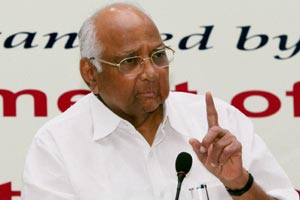 "Where is Sharad Pawar... What is Pawar exactly doing, when his nephew has harmed the culture of Maharashtra? Even the people from Baramati would be asking this question," an editorial in party mouthpiece Saamana said today.
Where is the Union Agriculture Minister, who usually acts like a consultant and a guide and sometimes even reprimands the one who commits mistake, the editorial said.
"In spite of bringing some relief to the drought afflicted people, Ajit Pawar has made some crass remarks," it mentioned.
The editorial further said that a case of sedition should have been registered against Pawar and he should be sacked from the Cabinet. But, he instead apologised by reading from a piece of paper and even Sharad Pawar used twitter – microblogging site to apologise to the people.
"Since when Pawar started taking help of twitter to express his views?" the editorial questioned.
Referring to late Shiv Sena supremo Bal Thackeray for working towards the farmers, it said the NCP chief had sneered at him. However, he (Pawar) is now quiet on the remarks made his nephew and state's deputy chief minister.
"Pawar has neither castigated his nephew by addressing through a public meeting nor has he sent him home by sacking from the ministry," it said.
It alleged that if there would have been some other political leader then not only Sharad Pawar, but even state Home Minister R R Patil and PWD minister Chhagan Bhujbal would have attacked that leader.
"If there is no water in the dam... Should we urinate into it?" Ajit Pawar had said in an insensitive comment at Indapur near Pune on last Saturday that set off a controversy in the state reeling under severe drought.
source:http://www.indianexpress.com