Narendra Modi Cabinet: All important portfolios for BJP, minor for allies, Arun Jaitley the biggest gainer
Details

Parent Category: Political News
Last Updated:

Thursday, 22 January 2015 20:58
Narendra Modi Cabinet: All important portfolios for BJP, minor for allies, Arun Jaitley the biggest gainer
---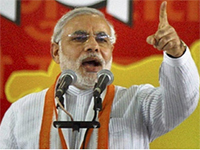 Prime Minister Narendra Modi ended all speculation on Tuesday as he announced the portfolios for his ministers a day after he was sworn in along with his Cabinet.
" The number 2 in Modi's Cabinet is the man who lost the Amritsar Lok Sabha seat Arun Jaitley. Jaitley is the Defence Minister, Finance Minister as well as the Corporate Affairs Minister.

"
However, he says the Defence portfolio is temporary till the next Cabinet expansion happens. "We have to strike a balancing act between inflation, growth. The challenge is to restore confidence in investors. Defence is a transition till the next Cabinet expansion," Jaitley said soon after taking charge of his ministries.
The other two top ministers in Modi's Cabinet are Rajnath Singh and Sushma Swaraj. While party president Rajnath Singh moves on to now becoming the Home Minister, Sushma Swaraj has become the first woman to be the External Affairs Minister of India.
Women power, meritocracy and fearlessness are some things that are evident in Modi's Cabinet. Modi has not paid much heed to allies giving them small ministries.
In fact, sources say that BJP ally LJP chief

Ram Vilas Paswan is unhappy

with Consumer Affairs, Food and Public Distribution.
Other allies like TDP's Ashok Gajapathi Raju and Akali Dal's Harsimrat Kaur Badal have got Civil Aviation and Food Processing Industries respectively. Shiv Sena's Anant Geete has got Heavy Industries and Public Enterprises. There were reports on Monday that the Shiv Sena is unhappy with only one ministry given to it while it wanted three ministries.
Click Here's the full list of the minister with their portfolios in the Narendra Modi Cabinet...
Modi has gone for people in whom he has total faith. He has also tried to position himself as a person who believes in women's empowerment. Smriti Irani, who gave a tough fight to Rahul Gandhi in Amethi but lost to him, has been given the Human Resource Development Ministry.
Another big gainer in Modi's Cabinet

among the women is Nirmala Seetharaman who has got Commerce and Industry (Independent Charge) and is also the Minister of State for Finance and Corporate Affairs, which means she will work closely with Jaitley, the number 2 in Modi's Cabinet.
Modi has come up with a new ministry called the Ganga Rejuvenation, which has been given to Uma Bharti. Uma Bharti, who had made a Twitter faux pas of revealing her ministry and then apologising, has in fact been given the ministries she had tweeted about - Water Resources, River Development and Ganga Rejuvenation.
Modi has given key Railways portfolio to former Karnataka chief minister and Lok Sabha member from Bangalore North DV Sadananda Gowda.

LK Advani's close confidante Ananthkumar

has been given less important Chemicals and Fertilisers.
The allies SAD, Shiv Sena, TDP and LJP have got insignificant portfolios. Since the BJP has absolute majority on its own, Modi can afford to ignore the allies' demands for plum portfolios.
While Modi's Cabinet for now is a compact one, sources say there's more to come. Modi has kept Personnel, Public Grievances and Pensions, Department of Atomic Energy and Department of Space with himself. Sources say a cabinet expansion is likely in the next three months. An announcement is expected appointing Mukul Rohatgi as the Attorney General.
Click Here's the full list of the minister with their portfolios in the Narendra Modi Cabinet...
source:ibnlive