After Calling Narendra Modi a 'Donkey', Mamata Banerjee Now Calls Him 'Danga Babu', Mamata Banerjee Now Calls 'Danga Babu' to Narendra Modi
Details

Parent Category: Political News
Last Updated:

Thursday, 22 January 2015 20:57
After Calling Narendra Modi a 'Donkey', Mamata Banerjee Now Calls Him 'Danga Babu'.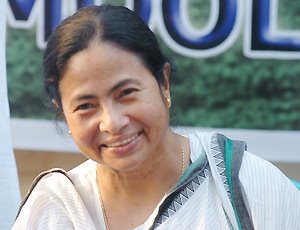 West Bengal: Continuing the tirade against Narendra Modi, Mamata Banerjee on Thursday alleged that the BJP was collecting 'Modi for PM' fund and said her party would write to the Election Commission about it.
"Modi for PM fund is illegal. PM and CM can only have Relief Fund. How can a political party collect fund for PM?" Ms Banerjee, the Trinamool Congress chief asked at an election meeting in Titagarh in North 24 Parganas. "We will write to the EC against the 'Modi for PM fund'," she said waving a paper.Varanasi parliamentary Election 2014 live updates
"Now I am even hearing they are protesting against the EC in Varanasi. This is unheard of," she said.  Alleging that BJP was spending a huge amount of money in the elections and that 90 per cent of the media had been bought she asked "Who is giving this money?Varanasi Lok sabha Election: cast play an important role
"This has never happened before in democracy. Today it has become a black day for the nation and this election will become a black election for them." In an apparent reference to 2002 Gujarat riots, she added, "See the enormity of the riots in Gujarat when little children and the women were burnt alive... If they come to power, they will sell the nation and incite riots.Arvind Kejriwal Began roadshow in Varanasi 
"People of all faiths, caste, creed live together in peace in Bengal. This makes 'Danga Babu' (Mr Riot) very jealous and angry," she said without naming the BJP Prime Ministerial candidate.  She also alleged that Modi was trying to drive a wedge between Bengalis and asked "Who is thelatsaheb? Have you seen the latsaheb?"
Alleging that Muslims and women feared Modi, Banerjee said "Tyag ka naam hai Hindu, Iman ka naam hai Mussalman. Pyar ka naam hai Isai. Yeh hai hamara pyara Hindustan. (Sacrifice is the name for Hindu; Integrity is the name of Muslim; Love is the name of Christian; this is our India)"
"Do we have to learn about Hinduism from BJP? Don't we worship Durga, Kali, Hanuman?" she asked. She accused BJP of playing politics of religion. "We do not play politics of religion. The CPI(M) started this kind of politics. BJP is continuing their tradition," she alleged.
 She said that those who wanted to destroy the communal harmony of Bengal should be defeated in the elections. "One who does not believe in secularism can never become a PM."
 "Why can't they counter us on policy and development issues? Why are they playing divisive politics? Let there be fight on the issue of political stability and economic stability," she said.
She also reiterated her claim that she would have prevented Modi from coming to Kolkata, but did not do so. "Had I wanted, it would have taken only a day or a minute... this is because you have the democratic right, come and say what you have to say and leave. "The more Modi visits Kolkata, the more votes will the Trinamool get," she added."