"Smriti Irani who?" Asks Priyanka Gandhi Vadra, Smriti Irani who? Priyanka on BJP's constant attack on Congress, "Who?" Asks Priyanka Gandhi Vadra on Smriti Irani.
Details

Parent Category: Political News
Last Updated:

Thursday, 22 January 2015 20:57
"Smriti Irani who?" Asks Priyanka Gandhi Vadra.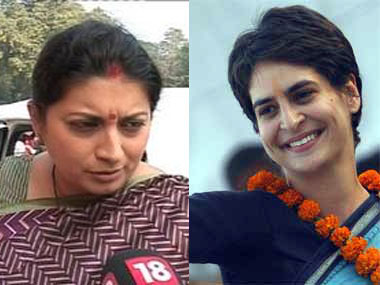 Amethi: "Who?" was Priyanka Gandhi Vadra's cutting response to questions today about Smriti Irani, who is running against her brother, Rahul, in Amethi.
Ms Irani, BJP leader, was equally scathing in her response. "I am not surprised. If u forget scams done by a family member why wud u remember my name," the actor-turned-politician tweeted today, referring to allegations of corruption that are swarming around Priyanka's husband, entrepreneur Robert Vadra.
 Also Read...8th Phase Lok Sabha Elections 2014 LIVE Updates

The exchange of fire comes a day beforeNarendra Modi, the BJP's prime ministerial candidate, arrives in Amethi to rally support for Ms Irani.
 Also Read..Modi to campaign in Rahul's Amethi for Smriti Irani.

A large number of Congress supporters had gathered here to catch a glimpse of both Priyanka and Rahul, who is also pitted against AAP's Kumar Vishwas in the May seven battle for Amethi seat.
Priyanka is not contesting the election, but as campaign manager for her mother and brother, she has become a headline-stirrer in the last few weeks on account of an aggressive confrontation with Mr Modi, who has challenged the Gandhis to explain what he describes as a miraculous fortune accumulated by Mr Vadra.
Though Mr Gandhi has been representing Amethi in the Lok Sabha since 2004, he is facing a tough contest this time. Apart from Ms Irani, Aam Aadmi Party's Kumar Vishwas, a close aide of Arvind Kejriwal, is the AAP's candidate from the constituency which has come to be regarded as a Gandhi family bastion. Amethi votes on May 7.
source:NDTV, Firstpost