BJP PM CandidateNarendra Modi to campaign in Rahul's Amethi for Smriti Irani,Modi to campaign in Rahul's Amethi,Narendra Modi to campaign in Rahul's Amethi for Smriti Irani
Details

Parent Category: Political News
Last Updated:

Thursday, 22 January 2015 20:57
BJP PM CandidateNarendra Modi to campaign in Rahul's Amethi for Smriti Irani.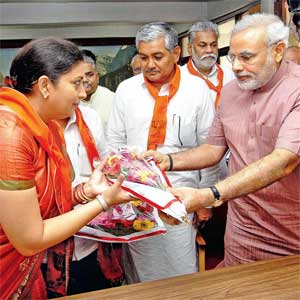 Amethi: BJP's prime ministerial candidate Narendra Modi will break an unwritten code of Indian politics - of keeping off a political rival's turf – when he will campaign in the Gandhi pocket borough of Amethi on Monday.
The BJP has fielded its popular leader Smriti Irani against Rahul Gandhi, the two-time MP from Amethi, while the Aam Aadmi Party (AAP) has fielded Kumar Vishwas, making it an interesting three-way contest.
Modi will address a rally in Gauriganj in favour of BJP's firebrand candidate Smriti Irani. Aam Aadmi Party's Kumar Vishwas is the other key challenger to Rahul Gandhi. Amethi is among the 64 constituencies that will go to polls on May 7 in the eight phase of Lok Sabha polls 2014. Today is the last day of campaigning for the phase.
Also read..Tickets for women expand female representation

While Rahul remains a favourite to retain the seat he first won in 2004, the gains made by the AAP among the Muslims and the over all sense of despondency against the performance of the UPA government has made the BJP smell an outside chance to win the prestigious seat.
" The decision to bring Modi to campaign for Irani is also indicative of this line of the thought in the BJP – Gandhi bastion is vulnerable this time." 

" On Sunday, Modi said in a 3D rally that he was going to Amethi to reciprocate the love and affection of the party workers there."
The Congress' first family has had a long association with Amethi with the party having 10 of the 12 past Lok Sabha elections. For the Gandhis, Amethi has always remained a matter of prestige and have made considerable effort to leave their imprint on the constituency. Owing to the Gandhi connection, Amethi now boasts of several national highways and educational institutions like IIIT, NIFT and Footwear Design and Development Institute.
However, the Congress is taking no chances. And leading the charge is Priyanka Gandhi. She has been campaigning aggressively for the last few days and had held a roadshow with Rahul, yesterday. Sonia too had visited Amethi to ask the people to take care of "her son".
The BJP is also going all out with a final push to try and dislodge the Gandhis from Amethi. Party's UP in-charge Amit Shah and a host of other senior BJP and RSS leaders are camping here to fine-tune strategy. The party is mobilising crowds from the Amthi-Sultanpur- Rae Bareli belt to ensure that at least two lakh people attended Narendra Modi's rally today.
source:http://zeenews.india.com/