Fact about 7th phase election, 7-phase poll facts, Some important facts about lok sabha election 2014 phase -7, Lok Sabha election 2014, Phase-7, Congress hopeful in Punjab, expects few seats from Uttar Pradesh, BJP has a chance in 6 West Bengal seats
Details

Parent Category: Political News
Last Updated on

Thursday, 22 January 2015 20:57
 Facts about 7th phase of polling :-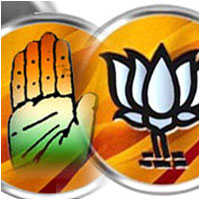 Fact about 7th phase election, 7-phase poll facts, Some important facts about lok sabha election 2014 phase -7, Lok Sabha election 2014, Phase-7, Congress hopeful in Punjab, expects few seats from Uttar Pradesh, BJP has a chance in 6 West Bengal seats
Also read.. 7th phase voting % graph wise, Andhra assembly election voting %

Lok Sabha polls 2014: Congress hopeful in Punjab, expects few seats from Uttar Pradesh.
Punjab is widely perceived to be the area of Congress' best hope in north India this time. Its decision to field senior leaders such as Captain Amarinder Singh and Ambika Soni and the perceived anti-incumbency against the Akali Dal-BJP regime seemed to have given the Grand Old Party a clear edge here. Congress, which won eight out of the 13 Lok Sabha seats in the state in 2009, has set a target of fetching more than 10 seats this time.

In UP while Congress is expecting a smooth victory for Sonia Gandhi in Rae Bareli, the party is anticipating a meltdown in its overall tally of 22.

source:economicstimes



Lok Sabha polls 2014: BJP has a chance in 6 West Bengal seats
The Modi surge has made the BJP a serious contender in at least six seats in Bengal. Here it could win or at least decisively influence the result. Two of these six seats — Howrah and Serampore — voted on April 30. Two — Darjeeling and Alipurduars, both in north Bengal — voted on April 17. Asansol sees polling on May 7 and Krishnanagar on May 12. In addition, Birbhum, where the BJP ran a high-profile campaign, also voted on April 30.

source:economicstimes
'BJP Prime Ministrial Candidate Narendra Modi said Priyanka was like his daughter.
The interview of BJP's PM candidate Narendra Modi's by public broadcaster Doordarshan was hit by controversy on Wednesday with speculation that some portions — for instance, where the Gujarat leader says Priyanka Gandhi Vadra was "like his daughter" — were edited out. The interview was telecast on April 27, nearly two days after it was recorded, following a buzz in social media that it was being dropped.Full read here