LIVE Modi Rally: Congress made 'scam India'; Modi will make 'skilled India', says Narendra Modi in Khalilabad (UP),
Details

Parent Category: Political News
Last Updated:

Thursday, 22 January 2015 20:57
Congress made 'scam India'; Modi will make 'skilled India', says Narendra Modi in Khalilabad (UP)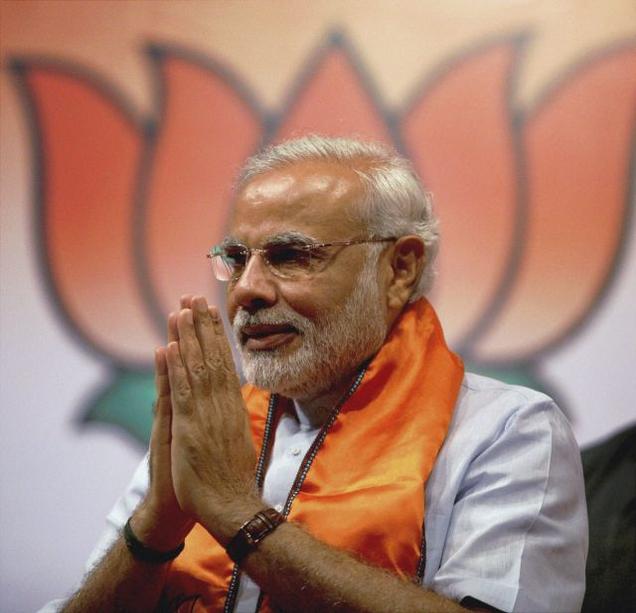 Vadodra (Gujarat)
Narendra Modi(BJP)
Vs.
Madhusudhan Mistry(INC)
Also Read-- complete discription of phase-8 and live updates
" Congress made 'scam India'; Modi will make 'skilled India', says Narendra Modi in Khalilabad (UP)" 
New Delhi: BJP Prime Ministerial nominee Narendra Modi on Friday will address four major rallies in Uttar Pradesh as part of his Bharat Vijay Rally. He will use all his might to convince the voters before the 8th phase of Lok Sabha Elections. Modi will address rallies in Khalilabad, Basti, Gonda and Balampur constituencies of Uttar Pradesh. Read Full Article here..
New-- Narendra Modi accuses Sonia Gandhi of 'open communalism':-
---
 Narendra Modi today charged Sonia Gandhi with "blatant communalism" over her meeting with top Muslim religious leaders where she allegedly asked them to ensure that the minority vote is not divided. Mr Modi, who is the BJP's prime ministerial candidate, said at a rally in Uttar Pradesh that the Election Commission should take action against Mrs Gandhi.
Modi says UPA govt insulted Andhra Pradesh, promises 'knowledge city' in Seemandhra:-
---
Speaking at an election rally in Madanpalle region of the state, Modi thanked the people for turning up in large numbers in scorching heat and said he would make sure that their efforts don't go in vain. "You have come for the rally even in this heat and after forming the government I promise we won't let your penance go in vain," he said.
Modi's speech was translated in Telugu by senior BJP leader Venkaiah Naidu. Emphasizing on NDA's dream of building 100 smart cities around the country, Modi also promised to build one in the Seemandhra region. Taking a jibe at Congress president Sonia Gandhi and his son Rahul Gandhi, Modi said the mother-son run government has never backed off in insulting Andhra Pradesh.
"The country needs a skilled India but Congress has created a scam India in the last 10 years of its rule," he added. Meanwhile, the Andhra Pradesh Police has stepped up security and intensified patrolling at the venues where Modi is participating in election campaigns in the state, in view of the twin bomb blasts at Chennai railway station. 25 Lok Sabha seats of Andhra Pradesh will go to polls on May 7, which is the next phase of polling. source:http://post.jagran.com/

News--- FIR against me shows panic in Congress:Narendra Modi
---
BJP's prime ministerial candidate Narendra Modi said that the FIR booked against him in Gujarat shows the panic in the Congress
News--- 62 per cent was recorded in Gujarat, where voting is underway for 26 Lok Sabha constituencies even as Modi's home turf " Vadodara"  witnessed a high turnout of " 50.46 per cent" .
News--- 3 pm:- EC order on Narendra Modi: "The Commission is of the view that by holding that meeting and also by addressing the same today when the polling is going on in the entire state of Gujarat and in different parts of the country, Narendra Modi has violated the provisions of Sections 126 (1)(a) and 126 (l)(b) of R P Act 1951." 
"Therefore, the Commission directs...That complaint/ FIR as the case may be, should be filed against Narendra Modi and all others who were involved in the convening and holding of the said meeting...," the EC order said. 
Narendra Modi        ✔ @narendramodi
On my way to vote. I consider myself extremely blessed & fortunate to be a voter in Advani ji's Parliamentary Constituency.
Narendra Modi        ✔ @narendramodi
Will continue the campaign with rallies in Bihar and Andhra Pradesh http://nm4.in/1fJ7aOJ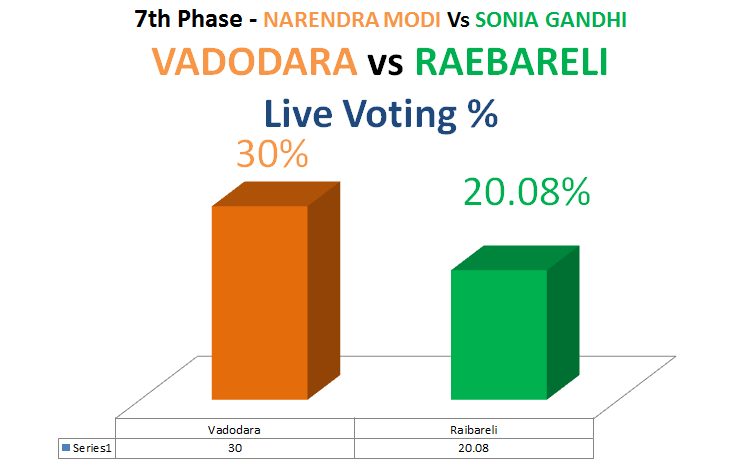 8:50 am Fortunate to be a voter in Advani's Parliamentary Constituency, says Narendra Modi.
9:00 amHolding the lotus symbol of the BJP in his 'inked' hand, Narendra Modi made a feverish poll pitch from Ahmedabad. A confident Modi said, "Maa-bete ki sarkar gayi (time up for the mother-son government)and it can't be saved. The foundation for the new government has already been cast, now the voting is for ensuring a strong and stable government."
"This is an election of hope. It is bringing a new trust. These elections will give new strength to the nation. On 16th May the message will be clear. There will be a strong government led by BJP. There is no confusion of that," he added.
Chiding the Congress, Modi said the party has accepted defeat given the way they're giving statements of aligning with Third Front.
Modi asked the electorate to "Vote for a glorious future of India", adding, "Don't forget Nirbhaya. Don't forget unemployed youth. Don't forget farmers committing suicide. Don't forget how our soldiers were beheaded."
Clean sweep in Gujarat? How BJP is eyeing a record win for Narendra Modi in Vadodara:
All the seven assembly constituencies in Vadodara are held by the BJP and the average margin of victory in five was 50,000. "That already totals a margin of 2 lakh votes," said Shukla. As Vadodara is predominantly an urban constituency — with five such seats — Congress candidate Madhusudhan Mistry, a tribal leader, will not make a dent, he said.
The challenge for the party, according to Pandey, is to get people to the polling booth. The safety of numbers apart, Modi chose Vadodara for strategic reasons too. Of the six parliamentary constituencies in the vicinity of Vadodara, three — Anand, Kheda and Dohad — are held by the Congress.
Chhota Udaipur and Panchmahal, which BJP won in 2009, are vulnerable, according to Shukla. The BJP is hoping Modi in Vadodara will enthuse voters in surrounding constituencies as well.
In Vadodara in particular, and Gujarat in general, the salient theme in this election is Modi's candidature as prime minister. The possibility of a Gujarati having a real chance of getting the top job in the country 37 years after Morarji Desai became prime minister has expectedly enthused voters, according to analysts and politicians. source:economictimes
Not Varanasi, Modi's 'karmabhoomi' Vadodara matters more to BJP
Modiji has lived in Vadodara in his younger days as a pracharak, he has worked there," says BJP leader Yamal Vyas, a member of the Gujarat State Third Finance Commission. Modi lived in the Shastripol area of the town for about five years in the 1970s. That old connect with the RSS is also there in Vadodara, the city where his RSS guru Madhukarrao Bhagwat had once lived. Not only did Modi call the city his "karmabhoomi" while filing his nomination, he also mentioned that he studied in a primary school established by the Gawekwads, and has benefited "immensely" from other institutions set up by the royal family. source:www.firstpost
Modi addressed only one rally in his constituency after filing nomination papers on April 9
Vadodara constituency has seven Assembly segments and the BJP has representatives in five of them. The Congress is powerful in one, and an independent in the rest. That Modi addressed only one rally in his constituency after filing nomination papers on April 9 reflects the BJP's confidence of victory. The party's central office at Sayajigunj is also not crowded. The workers come, collect campaign material, and leave without wasting time. source:newindianexpress.