A snapshot of India's economic recovery based on who wins LS polls
Details

Parent Category: Political News
Last Updated:

Thursday, 22 January 2015 20:57
A snapshot of India's economic recovery based on who wins LS polls,Lok sabha elections 2014, Lok Sabha 2014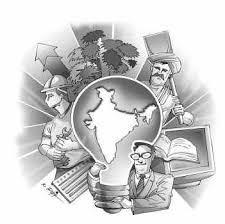 As India goes to polls, brokerage Nomura has predicted four likely outcomes and decoded what each political outcome means for India's economy.
The brokerage's ideal political outcome is that BJP/NDA form a solid plurality from which it should have little difficulty negotiating a viable coalition. In this event, the BJP's prime ministerial candidate, Narendra Modi, would be able to appoint a cabinet largely consistent with pursuing reforms, cutting red tape and boosting infrastructure investment.
The second outcome is that the NDA wins 200-219 seats to build a majority-wide coalition. This means more parties would have to be involved and hence more trade-offs are likely over policy as well as cabinet seats.(Complete 5th phase of lok sabha poll )
The third outcome is that the NDA wins 180-199 seats but is still able to form a plurality. "A BJP-led majority government would probably still emerge; but putting it together would likely prove challenging and could threaten Mr Modi's personal prospects for the prime minister's office. We would question the ability of such an administration to pursue an aggressive reform agenda," said Nomura.
The fourth and the worst outcome is that the NDA wins fewer than 180 seats, which would be a negative shock for the markets.
Here's a snapshot of the conomic outlook under different election scenarios .( Lok sabha election upadtes read here )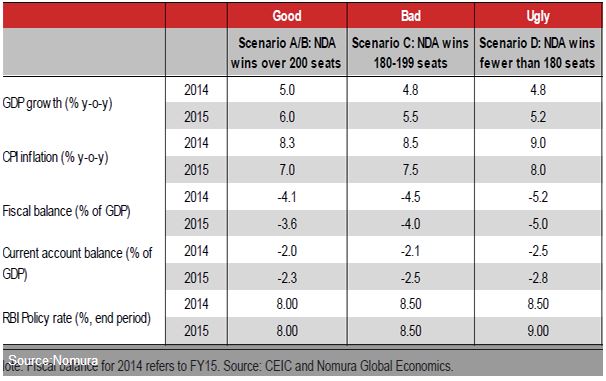 So in essence if NDA wins with over 200 seats, the government will get more elbow room to carry out reforms without excessive pressure from coalition partners.
"Under these scenarios, we forecast a cyclical recovery. In addition, we expect gradual disinflation and a boost to investments to lift potential growth. Reforms would move forward, but more importantly there would be better implementation/execution. We believe India's sovereign credit rating outlook is likely to be upgraded from Negative to Stable," said Nomura.
The brokerage expects faster execution to ease India's macroeconomic imbalances and expects India to attract substantial capital inflows, buoying equity prices and enabling companies to raise more equity. Rising investment and greater productivity are also likely to boost from 6 percent to 6.5 percent year on year.
But if the NDA wins less than 200 seats a hotchpotch BJP-led coalition may just survive, but it may mean someone other than Narendra Modi as prime minister. While the policy environment may still be better than it has over the last five years, a larger number of coalition partners would reduce the room for manoeuvrability on difficult reforms.
"While better global growth will still drive a business cycle recovery (we expect growth at 5.5% in 2015 from 4.8% in 2014), we expect potential growth to remain unchanged (at 6.0%) due to a slow burner of structural reforms. Continued supply-side bottlenecks would necessitate another 50bp hike in the repo rate to tame inflation," it added.
And if NDA wins less than 180 seats, Nomura expects great investor disappointment which would likely mean large capital outflows, resulting in a resurgence of balance-of-payments pressure. The sovereign credit rating could be downgraded as credit risks are likely to re-emerge.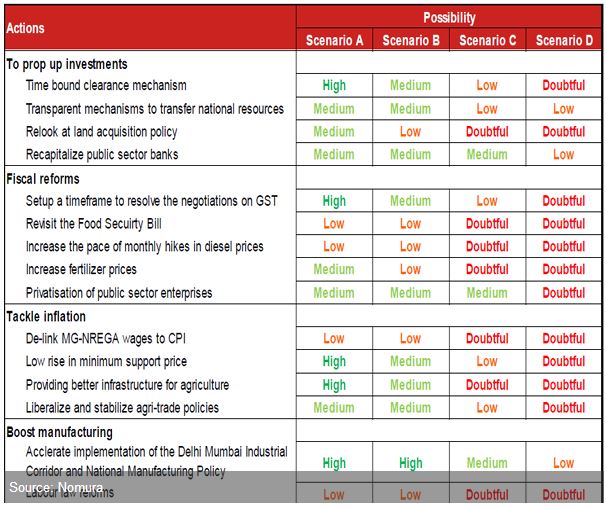 "We would expect real GDP growth to remain around 5.0% in 2014-2015. With a further decline in potential growth (to 5.5% on our estimates), fiscal and inflation concerns would rise, increasing the burden on the RBI to tackle inflation, leading to 100bp worth of additional monetary policy tightening," said Nomura.
In a nutshell, Nomura believes a Narendra Modi-led NDA government is positive for the economy, since it foresees accelerated execution of reforms in areas such as building infrastructure, promoting urbanisation and consolidating fiscal finances.
This story first appeared on Firstbiz.com,Soouurce: FirstPost