BJP will win 20 out of 28 Lok Sabha seats in Karnataka: B S Yeddyurappa
Details

Parent Category: Political News
Last Updated:

Thursday, 22 January 2015 20:54
Former chief minister B S Yeddyurappa confident that BJP will win 20 out of 28 Lok Sabha seats in Karnataka: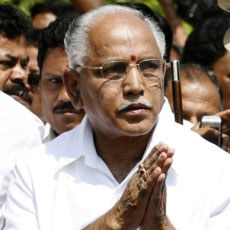 MANGALORE: Former chief minister BS Yeddyurappa, ruling out any confusion after the merger of Karnataka Janata Party (KJP) founded by him with the BJP, said that BJP leadership will announce list of candidates for Lok Sabha polls from Karnataka on March 8. The list will take into consideration the aspirations of prominent leaders who went with him to KJP and have been identified as his loyalists, including the Tumkur MP GS Basavaraj.
Interacting with media here on Tuesday, Yeddyurappa admitted that there a few districts where the formal merger of KJP with BJP is yet to take place. The aspirations of workers who identified with KJP there will be addressed, he said, adding that both units will work together leaving behind KJP as an old dream. Issues pertaining to Dhananjay Kumar — once his trusted lieutenant — will be sorted out and the party leaders will address the same, he said.
On him contesting Lok Sabha polls from Shimoga in place of BY Raghavendra, the sitting MP and his son, Yeddyurappa said, "I have fallen in line with the decision taken by party's central leadership who want me in Delhi." Stating that they wanted his presence in Delhi more than in Karnataka given that next elections in Karnataka are due 51 months away, he said, "I have given in to their decision in agreeing to contesting the polls from Shimoga."
Pointing that his son had done exceedingly well as an MP, Yeddyurappa said, "He is one among few MPs from the state who have been active in their first stint as MP."
On the likelihood of a byelection to Shikaripura assembly constituency that he currently represents if he won from Shimoga, Yeddyurappa said the party could consider Raghavendra's name for bypolls in such a scenario. "He has proved his leadership mettle," Yeddyurappa pointed.
Claiming there is a favourable wave for BJP to do well in forthcoming general election; Yeddyurappa exuded confidence that BJP will win 20 out of 28 seats in the state.
The youth are rallying behind BJP's prime ministerial candidate Narendra Modi in the same vein and zest that one saw during the socialist movement spearheaded by socialist leader Jayaprakash Narayan, Yeddyurappa said adding that the party has already commenced its groundwork.
Source: 'timesofindia'