Congress adjusts seat share with RJD in Bihar for the Lok Sabha Elections 2014
Details

Parent Category: Political News
Last Updated:

Thursday, 22 January 2015 20:54
Congress makes pre poll deal with RJD : To fight from 12 seats in Bihar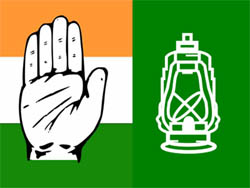 Patna: Ending days of suspense, Congress and the RJD led by Lalu Prasad Yadav finally sealed a seat sharing alliance for the upcoming Lok Sabha polls.
According to reports, the two sides have agreed to a seat-sharing formula according to which the Congress will contest on 12 seats while Lalu Prasad's RJD will field candidates in 27 other seats out of the 40 Lok Sabha seats in Bihar.
The Nationalist Congress Party (NCP) led by Sharad pawar will contest on one seat in the state. As per 'zeenews'
CNN-IBN news channel reported that the RJD will contest in 27 seats, Congress will have 12 and the Nationalist Congress Party will be fighting for one seat in the state which sends 40 members to Lok Sabha.
There is no clarity on seat distribution as yet, the news channel said.
The Rashtriya Janata Dal had earlier offered the Congress 11 seats plus one for its ally NCP.

The Congress wanted Madhubani, East Champaran, Jehanabad, Nawada and Bhagalpur but the RJD has strong claims over these.
A section in the Bihar Congress wants the party to go it alone in the April-May elections, pointing out that the RJD today is a headless organisation with former CM Lalu barred from contesting due to his recent conviction in a fodder scam case.
Congress vice-president Rahul Gandhi is also said to be cool to allying with the corruption-tainted Lalu.
For the ruling JD(U) — which in June 2013 ended a 17-year-old alliance with the BJP over its decision to elevate Narendra Modi — a partnership with the Congress would not only be symbolically valuable but would also provide an opportunity to isolate Lalu.
Source: 'hindustantimes'