Third Front are Congress supporters with a different name: Narendra Modi,Narendra Modi,Gujarat,BJP, #Namoinodisha,orrisa rally
Details

Parent Category: Political News
Last Updated:

Thursday, 22 January 2015 20:54
Third Front are Congress supporters with a different name: Narendra Modi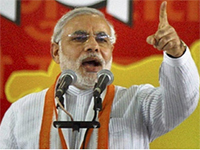 Bharatiya Janata Party (BJP) prime ministerial candidate Narendra Modi on Tuesday said that in the Third Front nine out of 11 parties have constantly been supporting the Congress and that during elections these parties wore the veil of Third Front. He called them Congress supporters in disguise.
"I have come with intent and not promises. Western India has developed faster because many states there have BJP governments - Rajasthan, Madhya Pradesh, Chhattisgarh, Goa, Gujarat, and look at the east, only those who speak of the Third Front are in power here," said Modi.
"Who are these people of the third front? Out of the 11 parties, 9 are such who have constantly supported the Congress, but during elections these parties wear the veil of Third Front. They are always on a 'Congress-bachao' mission. They are Congress supporters in disguise," he said.
"2014 elections are polls for the political purification of India. To get rid of the family that has been ruling for most of the 60 years," he added.
He further said that he can achieve in 60 days what the Congress could not achieve in Odisha in 60 months.
"It is a question of just a hundred days. After that the government in Delhi will change. Whether I get support from other states or not, I want MPs from Odisha because I want to work for the state. I have been running Gujarat for 14 years and so has the Chief Minister of Orissa. In 14 years we have developed Gujarat so much that people from Odisha come to Gujarat to seek employment," said Modi.
"Why are the craftsmen from Odisha who are skilled in weaving silk forced to work in Surat? We have to make Odisha a state that people want to come back to. You also have the Assembly elections with the Lok Sabha elections. Stand with me and I will dedicate my life to you. You have given others 60 years, I want just 60 months. What they haven't achieved in 60 years, I'll achieve in 60 days," he said.
"If BJP comes to power and I become the PM, and if there is no BJP MP from Odisha, how will I work for the state? There should be a straight 'pipeline' from Odisha to Delhi - that means the people of Odisha will have to send us 21 MPs to Delhi," he added.
He also compared the state of Chhattisgarh stating that it was in a much better state than Orissa due to the BJP government.
"Compare Odisha's situation to neighboring state Chhattisgarh. They have Maoists there too and
BJP has been working hard for development there. In the past 10 years under Dr Raman Singh, they have made rapid strides," said Modi.
"If Chhattisgarh can change, why can't Odisha? The reason is lack of leadership. The country needs strong leadership, Odisha needs strong leadership," he said.
"We have seen the Congress's model, the Left's model and BJP's model and I invite the political experts and pundits to study these models and compare them. I am confident that only the BJP's model will come out on top it is the most suited to development," he added.
Source:DNA