Poll results show BJP graph in Jharkhand, J&K on slide: Nitish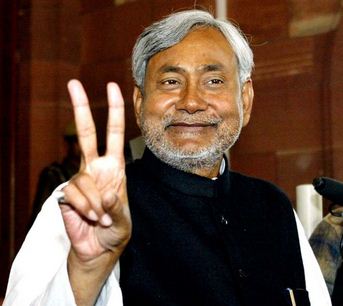 Patna: Senior JD(U) leader Nitish Kumar on Wednesday said BJP's performance in Jharkhand and Jammu & Kashmir was not a reason for the saffron party to feel proud of as the results show that its popularity was on the slide.
"Jeet par guman karne layak nahi hai (the victory do not give a reason to feel proud)," Kumar told reporters questioning the celebrations by BJP.
"The (poll) result in Jharkhand show that while BJP was ahead in 56 assembly seats in Lok Sabha election, in the assembly polls they managed to win 37 seats only," he said analysing the results, which were declared yesterday.
The vote percentage for BJP had also slided to 31.3 per cent in Jharkhand from 40.1 per cent in the Parliamentary election about six months earlier.
"In Jharkhand the BJP had set a target to win 60 seats, while in J& K they had 'mission 44'. But both could not be achieved," Kumar said.
On the dismal performance of JD(U), RJD and Congress, Kumar said "In the absence of a proper alliance among opposition parties I was not expecting much in Jharkhand."
"In view of no proper alliance between opposition parties, BJP should have swept Jharkhand poll but it did not happen which shows its popularity in its traditional bastion is on the wane," Kumar, who drove JD(U) to break ties with BJP in June last year over elevation of Narendra Modi in the party, said.
"Had there been a perfect alliance among opposition parties with inclusion of either JMM or JVM, the story could have been different," the senior JD(U) leader said.
Jharkhand has been a stronghold of BJP since Jansangh days hence its win in 37 out of the total 81 seats 'on no account could be a reason for celebration', he said.
In Jammu and Kashmir despite winning 25 seats, BJP has no presence in the valley and Ladhak regions, he added.
src:zeenews,economicstimes