Details

Parent Category: Indian Politics
Category:

Prominent Leaders

Last Updated:

Thursday, 22 January 2015 21:13
Arvind Kejriwal, Who is Arvind Kejriwal, Know about Arvind Kejriwal, AAP Delhi CM candidate, Arvind Kejriwal Biography, Arvind Kejriwal political Career as Delhi CM, who will become new cm of Delhi, chief minister, chief minister of Delhi, position held by Arvind Kejriwal , Arvind Kejriwal Achievements Awards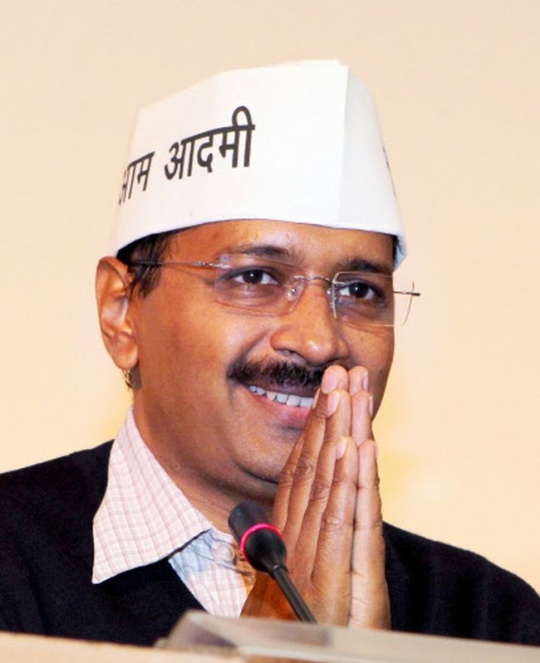 Arvind Kejriwal (born 16 August 1968) is an Indian politician and former civil servant who was the 7th Chief Minister of Delhi from 28 December 2013 to 14 February 2014. He is the National Convener of the Aam Aadmi Party (AAP).
Kejriwal is a Mechanical Engineering graduate of the Indian Institute of Technology Kharagpur and worked for the Indian Revenue Service (IRS) as a Joint Commissioner in the Income Tax Department.
He is better known for his key role in drafting the Jan Lokpal Bill. In 1999 Kejriwal founded Parivartan, an NGO aiming to assist the citizens in electricity, income tax and food ration-related matters. His contributions and role to empower the poorest at the grassroots level and implement the Right to Information Act (RTI) won Kejriwal the Ramon Magsaysay Award in 2006 for Emergent Leadership. He created a corpus fund with the award money and founded the NGO called Public Cause Research Foundation in 2012.
| | |
| --- | --- |
| Constituency | New Delhi |
| State | Delhi |
| DOB | 16/08/1968 (Siwani, Bhiwani district) |
| Political Party | AAP (Aam Admi Party) |
| Father Name | Gobind Ram Kejriwal |
| Mother Name | Gita Devi |
| Spouse | Sunita Kejriwal |
| Children | 1 Son 1 Daughter |
| Religion | Hindu |
| Educational Qualification | BTech in Mechanical Engineering |
| Profession before joining politics | Indian Revenue Service officer and also Joint Commissioner of the Income Tax Department |
Political career:
In 2012, Kejriwal launched the Aam Aadmi Party, as he believed that electoral politics was the next logical step in the fight against corruption and defeated Chief Minister Sheila Dikshit in the 2013 Delhi Legislative Assembly election. Following the election, he took office as the Chief Minister of Delhi on 28 December 2013. He resigned 49 days later, on 14 February 2014, stating he did so because of his government's inability to pass his proposed anti-corruption legislation due to a lack of support from other political parties.
2014 Parliament elections
Kejriwal said in January, prior to his resignation as chief minister, that he would not contest a seat in the 2014 Lok Sabha elections. He claimed party members persuaded him to change his mind, and on 25 March, he agreed to contest against the BJP prime ministerial candidate, Narendra Modi, from Varanasi, but lost the election.
Position held:
Joint Commissioner, Indian Revenue Service (IRS) in the Income Tax Department.

Chief Minister of Delhi (

28 December 2013 to 14 February 2014

)
Awards and recognitions
2004: Ashoka Fellow, Civic Engagement.

2005: Satyendra K. Dubey Memorial Award, IIT Kanpur for his campaign for bringing transparency in Governance.

2006: Ramon Magsaysay Award for Emergent Leadership.

2006: CNN-IBN Indian of the Year in Public Service.

2009: Distinguished Alumnus Award, IIT Kharagpur for Eminent Leadership.

2009: Awarded a grant and fellowship by the Association for India's Development.

2010: Policy Change Agent of the Year, Economic Times Awards along with Aruna Roy.

2011: NDTV Indian of the Year along with Anna Hazare.

2013: CNN-IBN Indian of the Year 2013-Politics.

Foreign Policy magazine top 100 global thinker, November 2013.

2014: Kejriwal was featured in Time's 2014 Time 100 list of the most influential people in the world.