Details

Parent Category: Indian Politics
Category:

Prominent Leaders

Last Updated:

Thursday, 20 October 2016 14:55
Arjun Munda Biography Family Address Contact Professional Career, Who is Arjun Munda, Know about Arjun Munda Member of Parliament , Arjun Munda Biography, Arjun Munda political Career as CM MP, position held by Arjun Munda, Arjun Munda Assets Criminal Records Liabilities Achievements Awards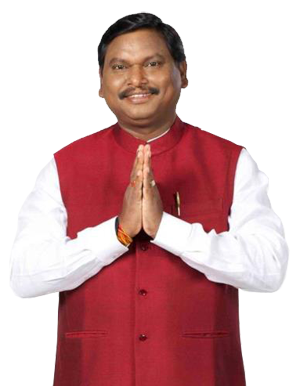 Arjun Munda (born 3 May 1968 in Khrangajhar, Jamshedpur) is the Ex-Chief Minister of the Indian State of Jharkhand. Currently he is the Leader of Opposition in the State Assembly. He has also served as a member of parliament having been elected to the 15th Lok Sabha from the prestigious Jamshedpur constituency in the 2009 parliamentary elections. BJP's central leadership also appointed him a National General Secretary of the party recognising his strong credentials as a popular mass leader and his significant contributions in strengthening the party in his state.
An avid golfer Arjun Munda is also interested in promoting archery at national and international levels. He plays flute and almost all tribal musical instruments widely used in the area with the flare of a pro.
Early life:
Arjun Munda was born on 3 May 1968 in Khrangajhar, Jamshedpur to a humble and religious family of Late Ganesh and Saira Munda. After completing high school education in Jamshedpur area he graduated from Ranchi University and went on to earn a PG Diploma in Social Sciences from Indira Gandhi National Open University.
| | |
| --- | --- |
| Constituency | Jamshedpur |
| State | Jharkhand |
| DOB (Place of Birth) | 5/3/1968 (Khrangajhar, Jamshedpur, India) |
| Political Party | Bharatiya Janata Party (BJP) |
| Father Name | Late Sri. Ganesh Munda |
| Mother Name | Smt. Saira Munda |
| Religion | Hinduism |
| Spouse | Mrs. Meera Munda |
| Children | 3 sons |
| Educational Qualification | He was Completed his high school education in Jamshedpur. Earned the Diploma, Bachelor Preparatory program from IGNOU,New Delhi. |
Position Held:
In 1980s he was joined the Jharkhand Movement and was become the head of the Jharkhand Mukti Morcha (JMM) party.

In 1995, he was elected to bihar state assembly elections, from Kharswan constituency.

In 2000, joined the BJP Party. He served as the Social Welfare Minister under the cabinet of Babulal Marandi government.

In 2009, he was elected to the 15th Lok Sabha from Jamshedpur Constituency in the parliamentary elections.

In 2011, again from the bye – election he was tried to the assuming ministery after as the responsibility of CM in September 2010.

Currently he is the Leader of Opposition in the JharKhand,State Assembly.
Achievements
Arjun Munda diffused the tension that was created due to "Domicile movement"during the year 2001–2002 and insisted that each and every citizen of India had the fundamental right granted by the Indian Constitution to live and work in any part of the country. During his tenure Jharkhand got the 1st Lokayukta and the State successfully conducted the 34th National Games in 2011. Also, a 32-year long jinx was broken when Jharkhand scripted history by conducting Panchayat Elections and empowered PRIs for participatory governance. His government introduced e-tender system in government contracts to bring transparency and efficiency and to provide equal opportunity in the procurement process. He also took initiatives for setting up of new power plants with a view to making Jharkhand a power surplus state. Last but not the least he introduced some of the famous welfare schemes and programs that were later emulated by few other Indian states such as:
Kanyadan Yojana: To provide assistance in solemnising marriages of girls from underprivileged classes.
Mukhya Mantri Ladli Laxmi Yojana:To promote welfare of the girl child born to a BPL family and APL families having an annual income of less than Rs. 72,000, her education and safe motherhood.
Aapka-cm: The Grievance Management System was established to enable people to communicate directly with their CM and voice their grievances to the State leadership for prompt consideration and redressal.
Mukhya Mantri Dal Bhat Yojna: To provide wholesome food and nutrition to the poorest sections of society. Under this scheme, BPL families get dal, bhat and sabji for Rs 5 at railway stations, bus stands, hospitals and public places.
Free Laptop/Tablet: To prepare the youth to face challenges of the 21st century tablets were to be given to students passing matriculation examinations under Yuwa Kaushal Vikas Scheme launched in 2013.