Details

Parent Category: Indian Politics
Category:

Prominent Leaders

Last Updated:

Thursday, 22 January 2015 20:53
A multi-millionaire businessman, heading a security firm with a turn-over of about Rs.3,000 crore, is set to enter the Rajya Sabha as a Bharatiya Janata Party (BJP) member,This BJP nominee set to be Rajya Sabha's richest member,At Rs 850 crore, Bihar-based businessman to be Rajya Sabha's richest member,bihar ,rajya sabha,ravindra kishore sinha,sis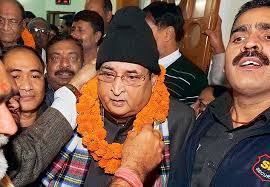 Ravindra Kishore Sinha, who runs Security and Intelligence Services India Pvt Ltd, popularly known as SIS, is likely to be elected unopposed when the results of the biennial polls to the Rajya Sabha are declared on February 7.
Sinha, who filed his nomination papers with Thakur as the BJP nominee on Monday, has declared his and his wife's assets to be worth nearly Rs.800 crore. Sinha owns assets worth Rs.564 crore while his spouse's total assets have been valued at Rs.230 crore.
This will make him the richest member of the Upper House of Parliament once he takes oath.The BJP, which has 91 members in the 243-member Bihar Assembly, requires only 82 votes to secure the victory of its two nominees - Sinha and former Union minister Dr C.P. Thakur.
According to a recent survey of the Association of Democratic Reforms (ADR) and the National Election Watch (NEW), Mahendra Prasad of the Janata Dal(United) is at present the richest Rajya Sabha MP with total assets worth Rs.683 crore, followed by Independent member Vijay Mallya with 615 crore and Samajwadi Party MP Jaya Bachchan worth Rs.493 crore.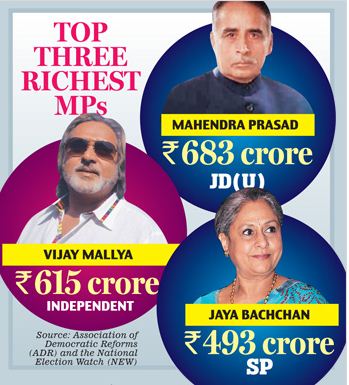 Sinha, who has been associated with the Jan Sangh since late 1960s, had been trying to get BJP's nomination for the Rajya Sabha for several years. He had worked actively with former BJP president Nitin Gadkari during the recent Delhi Assembly elections. He has been an active leader of the party in recent years but it is his entrepreneurial skills that make him stand out in the crowd of politicians.

A self-made man, the 62-year-old leader had started his career as a trainee journalist with The Searchlight and Pradeep (now defunct) dailies in Patna in 1971. He quit his job in 1974. In the course of his job, he was assigned to cover the Bangladesh war where he came in contact with some army men who inspired him to set up his maiden entrepreneurial venture, SIS, for the exservicemen.
With a paltry sum of Rs.250, Sinha launched his business and went on to script the proverbial rags-toriches tale with his sharp business acumen. He got in touch with army men at the Danapur Regimental Centre and got details of the ex-servicemen. He deployed 14 of them as private guards at buildings of his builder friend at the monthly pay of Rs.400.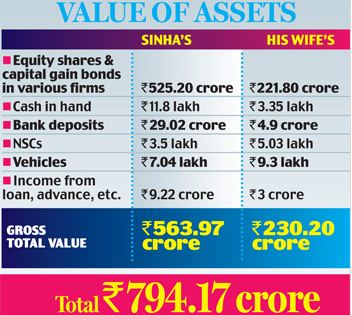 In 2008, his firm acquired an Australian security agency called Chubb Security, which was up for sale for $300 million. Sinha sold 14 per cent of his company's stake to partly fund the acquisition, thereby becoming the first Indian multinational in the security service industry. Later, the company diversified in other areas.
Source: NDTv, India Today