Unofficial Results 2016 Philippine elections, Exit Poll Philippine Elections, Philippines presidential election 2016, Philippines 2016 Election Exit Polls, Philippines Election Result 2016, Rodrigo Duterte,Grace Poe,ManuelRoxas,Jejomar Binay,Miriam Defensor-Santiago, Philippine elections Presidential Winner RunnerUp 2016
Philippine presidential front runner Rodrigo Duterte was leading in early unofficial results on Monday (May 9) after voting for the country's general election closed in most areas at 5pm.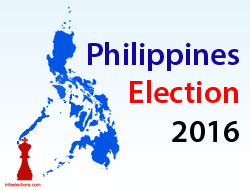 Highlights of

Philippine presidential

Exit Polls
All Exit Polls indicate Rodrigo Duterte would be the winner in the presidency election. People want a strict leader who cud uproot corruption, Crime, drugs and make it prosperous like Singapore.

Unofficial Tally Indicate Rodrigo Duterte to be leading by 600,000 votes.

Election commission hoped to declare a victor within 24 hours.
Philippine presidential election 2016 Unofficial (Exit Poll) Results

President

Votes

Percent

Rodrigo Duterte

14,78,253

38.20%

Mary Grace Poe

8,57,676

22.10%

Manuel Roxas

8,46,720

21.90%

Jejomar Binay

5,19,873

13.40%

Miriam Defensor-Santiago

1,69,670

4.40%
Philippine presidential election 2016 Unofficial (Exit Poll) Results (Vice President)

Vice President

Votes

Percent

Ferdinand Marcos Jr

14,39,972

38.10%

Maria Leonor Robredo

12,53,562

33.20%

Alan Peter Cayetano

5,14,242

13.60%

Francis Joseph

4,34,377

11.50%

Antonio Trillanes IV

73,669

1.90%

Gregorio Honasan II

63,573

1.70%
src:ph.rappler.com