Details

Category: Telangana News
Last Updated:

Thursday, 22 January 2015 20:54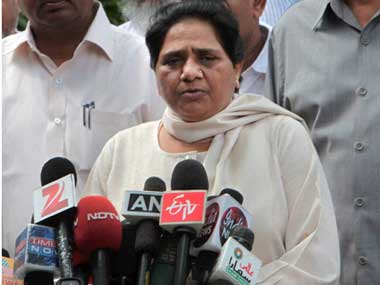 Mayawati backs Telangana, demands division of bigger states:
New Delhi: 5.55 pm: Samajwadi Party opposes the Telangana Bill in Rajya Sabha.
5.46 pm: CPI opposes bifurcation of Andhra Pradesh, Sitaram Yechury says in Rajya Sabha that his party is opposed to Telangana.
5.38 pm: Mayawati in Rajya Sabha on Telangana Bill: "Telangana should have been created long back as it is a very old demand. Other bigger states should also have been divided. Uttar Pradesh should be divided into four new states. Vidarbha should also be created out of Maharashtra."

5.34 pm: Mayawati in Rajya Sabha: "Happy that a new state of Telangana is being created. Demand special package for Seemandhra."
5.30 pm: Congress MP Chiranjeevi lambasts YSR Congress and the TDP for earlier supporting the Telangana Bill.
5.26 pm: Congress MP and MoS Tourism Chiranjeevi demands that Hyderabad be made a Union Territory.
5.20 pm: Congress MP Chiranjeevi: "Process to divide Andhra Pradesh unfortunate. Both Congress, NDA are to blame for this situation. NDA too promised Telangana earlier, but didn't keep its word. Pained to go against party stand on Telangana."
5.01 pm: BJP's Venkaiah Naidu: "We will back the Telangana Bill but we need Rs 10,000 crore financial package and tax incentives for Seemandhra in return for our support."
4.50 pm: BJP's Venkaiah Naidu: "We support the Bill but are concerned about the people from Seemandhra."
4.45 pm: Rajya Sabha resumes, uproar over Telangana continues. BJP demands amendments to the Bill amidst demands for a "United Andhra" from protesting Seemandhra MPs.
4.30 pm: Rajya Sabha adjourned for 15 minutes as uproar over Telangana continues.
4.25 pm: Rajya Sabha resumes session. BJP's Venkaiah Naidu appeals to members to allow discussion on Telangana Bill.
4:10 pm: Rajya Sabha adjourned for 15 minutes as MPs continue to shout slogans. Andhra MPs walk around with banners reading "Save Andhra Pradesh" while JDU MPs demand special status for Bihar.
3:50 pm: Sources say that the Vice president in his meeting with all party leaders stressed the need for a debate and is determined to pass the Bill today. While the TMC refused to budge, JDU said that it will make it an issue but eventually allow it to be passed. Leader of Opposition in the Rajya Sabha Arun Jaitely will raise the point that Bill is not constitutionally valid but will allow it to be passed and not stress on amendment.
3:38 pm: Rajya Sabha adjourned till 4 pm.
3:23 pm:Vice President Hamid Ansari calls meeting of all party leaders including Leader of Opposition Arun Jaitley over the Telengana issue. Ansari wants a full debate to take place on the same.
3:23 pm:RS adjourned for 15 min again.
3:20 pm: House resumes. RS chairman appeals the members to maintain order, uproar continues in the house over Telangana.
3:10 pm:Home Minister Shinde moves Bill amidst ruckus. BK Hariprasad, Pramod Tiwari and Hanumanta Rao form chain around Shinde. Six MPs including Jaitley move notices to oppose Bill on grounds of constitutional invalidity. TDP MPs and TMC MPs engage in war of words as Jaitley stands to speak.
3:10 pm: Rajya Sabha adjourned yet again, to resume after 10 minutes.
3:00 pm: Rajya Sabha resumes. Uproar over Telangana.
2:40 pm:Rajya Sabha could not take up the whistle blowers Bill due to ruckus over the issue of Tamil fishermen and Telangana issue.
2:38 pm: AIADMK leader V Maitryen stopped by marshals in Rajya Sabha while he tried to reach the RS chairman's seat. He was stopped by the marshals and forced to step back.
2:38 pm: Rajya Sabha adjourned till 3 pm.
2:36 pm: Uproar in the house continues over Telangana. Members enter the well of the house with banners. RS takes up the whistle blowers Bill.
12:35 pm: Rajya Sabha adjourned for the third time in the day, to resume at 2pm.
12:34 pm: PM to give assurances on compensation over Telangana issue.
12:32 pm: Uproar in Rajya Sabha on Telangana and TN Fishermen issue.
12:29 pm: Lok Sabha has been adjourned.
12:28 pm: Congress MP Sanjay Nirupam calls the decision by the Supreme Court wrong. "SC decision is wrong. All accused should be punished," he said in Lok Sabha.
12:25 pm: Prime Minister likely to intervene on Telengana issue in Rajya Sabha.
12:05 pm:Rajya Sabha adjourned till 12:30 pm.
12:00 pm: Parliament resumes. Uproar over Telangana continues in Rajya Sabha.
11:20 am: Reacting to TN government's decision on Rajiv Gandhi killers Samajwadi Party supremo Mulayam Singh Yadav said, "it's a matter between court and the government, don't want to comment.
On communal violence Bill, Mulayam Singh Yadav said, "the government is betraying us. Why isn't this Bill being passed? When every other bill can be pushed though why not this bill?
11:15 am: "TN government's decision to release Rajiv Gandhi killers shouldn't be proceeded with. TN government's decision to release Rajiv Gandhi killers not legally tenable. The assassination of Shri Rajiv Gandhi was an attack on the soul of India," PM Manmohan Singh said in a statement.
11:05 am: Both houses of Parliament adjourned till 12 pm.
11:05 am:Government sources also indicating that they are confident they have the numbers to pass the Bill and defeat the BJP amendments.
11:04 am:Lok Sabha member raises the decision of the Tamil Nadu government to release the assassins of Rajiv Gandhi.
11:01 am: Obit references are being made in Rajya Sabha.
11:00 am: Both houses of Parliament begin.
10:55 am: Government sources insist that constitutional amendments cannot be made since this is a general Bill and that the Bill should either be passed or rejected.
10:51 am:Sources say that there is a possible breakthrough on Telangana. The PM or the Home Minister may give assurance on BJP amendments while discussion on the Bill in Rajya Sabha. Amendments may be pressed, but not accepted.
10:50 am:Rajya Sabha chairman Hamid Ansari has insisted that the Bill needs to be passed with discussion and debate.
10:50 am: Telangana Bill to come up in Rajya Sabha at 3pm today. Sources say that depending on the situation and the need of the House, Parliament session may be extended.
With just a day to go for this Parliament session to end, the UPA government is putting in all efforts to try and push through the Telangana Bill in the Rajya Sabha on Thursday.
The upper house saw ugly scenes over the issue on Wednesday with a TDP MP getting aggressive with the Rajya Sabha Secretary General. Outside hectic negotiations continue while Congress President Sonia Gandhi has asked for a special status for Seemandhra.
With potential ally TDP not happy with Bharatiya Janata Party's conciliatory stand in the Lok Sabha, party leader Venkaiah Naidu and Arun Jaitley pushed for two critical amendments. Both met Prime Minister Manmohan Singh for a crucial meeting and insisted that the unique status of Hyderabad for 10 years as joint capital with law and order under Telangana Governor requires a Constitutional amendment and adequate compensation for Seemandhra be made in the Bill itself.
As negotiations continued, Sonia Gandhi announced a special state status for the Seemandhra region on a day when Kiran Kumar Reddy, opposing bifurcation of the state, resigned as the Andhra Chief Minister, MLA and even a Congress member. "I had told Sonia Gandhi that this is a bad decision. I'm quitting because I can't be party to a decision that is so harmful," Reddy said.
Meanwhile, the bandh call given by YSR Congress chief Jagan Mohan Reddy against bifurcation evoked a partial response in 13 districts of coastal Andhra and Rayalaseema. With political uncertainty looming over the state, heavy deployment of paramilitary forces is likely to continue for the next few weeks.
Source: 'IBNLive'