Details

Category: Telangana News
Last Updated:

Thursday, 22 January 2015 20:54
Telangana Bill in Lok Sabha amid protests both inside and outside Parliament: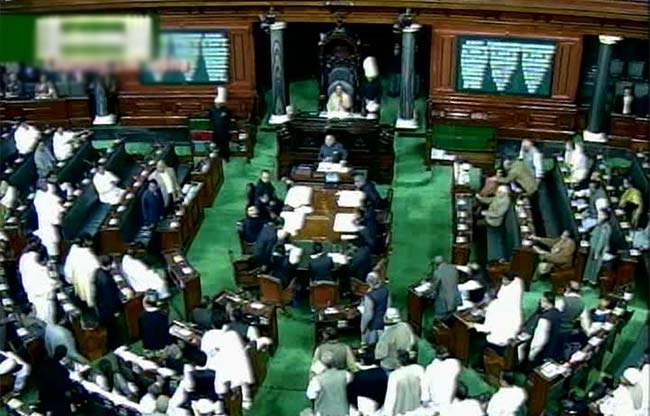 1:10 pm: TDP MP Venugopal Reddy denies brandishing knife inside Lok Sabha. "I want to prevent the Bill (Telangana). I have moved a no-confidence motion. I pulled out the microphone, it was not a knife," says Reddy. 
1:08 pm: Speaker Meira Kumar rushed home as she felt the effect of the pepper spray in her office connected to the Lok Sabha. 

1:05 pm: Telangana clashes in Parliament very shameful, I am hurt after seeing what happened, BJP president Rajnath Singh tells a news channel. 

1:02 pm: Smell of the pepper spray even felt outside the House, reports PTI. 

1:00 pm: CPI member Gurudas Dasgupta demands arrest of L Rajagopal. 

12:58 pm: We will take action, assures Shinde. 

12:58 pm: Telangana Bill has been introduced in Parliament and it is now the property of the House, says Home Minister Sushilkumar Shinde. 

12:53 pm: Government, Home Ministry and police will take action in accordance with the directions of the Speaker, says Kamal Nath. 

12:52 pm: I would recommend to the Speaker strongest action against these MPs, says Kamal Nath. 

12:52 pm: Kamal Nath says they will meet the Speaker to decide on action against erring MPs. 

12:51 pm: The MPs were not frisked as rules expect them to maintain dignity of the House, says Kamal Nath. 

12:51 pm: I am told there was gas, knives, other materials as well, says Kamal Nath. 

12:50 pm: I feel ashamed that such incident has taken place. This negates the fundamentals of our democracy, says Kamal Nath. 

12:50 pm: It is a big blot on Parliamentary democracy, says Union Minister Kamal Nath. 
12:48 pm: I feel sorry that this happened in a country like ours. This is totally unacceptable, says former Lok Sabha speaker Somnath Chatterjee. 

12:47 pm: Strong action will be taken against erring MPs as it was an attempt to "kill" members, says Union Minister Rajiv Shukla. 

12:45 pm: Union Minister Kapil Sibal and other officials confirm Telangana Bill has been tabled in the Lok Sabha. 

12:40 pm: PTI says the impact of the spray was so severe that even mediapersons in the press gallery atop the Chair started coughing. 

12:35 pm: Both Lok Sabha and Rajya Sabha adjourned till 2.00 pm. 

12:35 pm: TDP MP CM Ramesh tried to pluck away mike of the Chair in Rajya Sabha protesting against Telangana, reports PTI. 

12:30 pm: Reports say TDP MP Venugopal Reddy even waved knife during commotion in Lok Sabha. 

12:30 pm: It is a very sad day, says LJP chief Ram Vilas Paswan 

12:20 pm: TDP MP Venugopal Reddy broke mike on Secretary General's table in Lok Sabha, L Rajagopal smashed glass on the table causing commotion, reports PTI on sequence of events that took place in Lok Sabha. 

12:18 pm: It was not immediately clear whether Telangana Bill was introduced, though Home Minister Sushilkumar Shinde rose to do so, says PTI.

12:16 pm: Hell broke loose as Rajagopal spread the spray causing severe coughing among members with some looking uncomfortable, reports PTI. 

12:15 pm: Vijaywada MP Rajagopal had to be rescued by watch and ward staff after he was attacked by other members after the spraying, reports PTI. 

12:15 pm: One MP sprayed something in the House, everyone started coughing. It's sad, it's not a temple of democracy any more, says TMC's Dinesh Trivedi. 

12:12 pm: At least three Lok Sabha MPs rushed to hospital in ambulances for medical attention. 

12:08 pm: Ruckus in Rajya Sabha as well as MPs from Seemandhara troop into the Well of the House, attempt to break Chairman's microphone. 

12:06 pm: MPs hold placards, shout slogans in Rajya Sabha in favour of a united Andhra. 

12:05 pm: Lok Sabha adjourned soon following chaos. 

12:03 pm: Marshals called in as some MPs enter into scuffle. Rajagopal also injured, say reports. 

12:03 pm: Parliament doctor immediately rushed inside Lok Sabha. 

12:03 pm: MPs seen coughing, covering their eyes as pepper spray is used in Lok Sabha. 

12:02 pm: Expelled Congress MP L Rajagopal, from Vijaywada, uses pepper spray to disrupt proceedings in Lok Sabha as Shinde rises to introduce Telangana Bill. 

12:00 noon: Home Minister Sushilkumar Shinde tables Telangana Bill in Lok Sabha, say TV reports. 

11:50 am: Clashes reported between pro- and anti-Telangana supporters outside Parliament at Vijay Chowk. 

11:45 am: Four Congress MLAs from Seemandhara region resign from the Assembly and quit party in protest against the bifurcation of Andhra Pradesh. 

11:05 am: Both Lok Sabha and Rajya Sabha adjourned till 12 noon amid uproar over Telangana and other issues. 

11:00 am: Latest reports say the Telangana Bill will be tabled today in Lok Sabha, at around 12 noon. The Bill has been listed as supplementary agenda. 

10:42 am: We are still holding discussions on the Telangana Bill, says Kamal Nath. 

10:40 am: Reports suggest the UPA government is now mulling to table the Telangana Bill in Parliament on Monday. 

10:35 am: Union Ministers Kamal Nath and Sushilkumar Shinde meet to discuss whether to table the Telangana Bill in Lok Sabha today. 

10:30 am: Normal life is thrown out of gear in Coastal Andhra and Rayalaseema regions of Andhra Pradesh due to a bandh called against the Centre's planned move to table the Telangana Bill in Parliament today.
Source: 'ZeeNews'