Shrawasti Uttar Pradesh Parliamentary Constituency 2019, Shrawasti Lok Sabha Constituency Details, Political News Shrawasti, Uttar Pradesh Lok Sabha Elections 2019 News Updates, Uttar Pradesh Parliamentary Constituency details 2019, Shrawasti MP, Issues P
Details

Parent Category: Political News
Last Updated:

Tuesday, 29 January 2019 18:19
Shrawasti Uttar Pradesh Parliamentary Constituency 2019, Shrawasti Lok Sabha Constituency Details, Political News Shrawasti,Uttar Pradesh Lok Sabha Elections 2019 News Updates, Uttar Pradesh Parliamentary Constituency details 2019, Shrawasti MP, Issues Political Analysis 2019: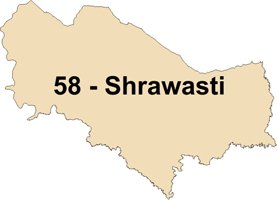 About the Constituency:
One of the 80 constituencies of Uttar Pradesh, Shrawasti Lok Sabha Constituency was formed after the delimitation of 2008. The Shrawasti Lok Sabha Constituency (constituency number 58) consists of 1,405,884 number of electorates in totality, of these 773,243 are males and 632,641 are females as the Election commission of India 2009 data suggests.
Assembly Segments:
It has five Vidhan Sabha segments with one being reserved for the SC category.
Names of Assembly Constituencies

Bhinga

Shravasti

Tulsipur

Gainsari

Balrampur (SC)
About Shrawasti:
Shrawasti or Shrawasti District sprawls over an area of 1,859 sq km and is a part of the division of Devipatan. Bhinga is the headquarters of the district and it shares its borders with Nepal. It is 150 km away from Lucknow and comprises of two tehsils. The official language here is Hindi. The district is one of the 250 most backward districts of India and receives funds from the Backward Regions Grant Fund Programme. It has basic educational facilities.
Demographic Pattern:
According to the census data of 2011, the district has a population of 1,114,615 and is India's 414th most populous district. 53% of the population is male whereas 47% is female. From 2001-2011, its population growth rate was negative at -5.25% and it has a population density of 572 people per sq km. 18.59% of the population is below the age of six and the sex ratio is 881 females per 1000 males. Shrawasti District has an appalling literacy rate of just 46.74%, with male literacy rate at 57.16% and female literacy rate at just 34.78%.
Present Political Scenario:
Minimal Brahmin Votes
Very few Brahmin voters are present here (about 60-75k), that's why Candidate Selection holds the key for any party.