Kaushambi Uttar Pradesh Parliamentary Constituency 2019, Kaushambi Lok Sabha Constituency Details, Political News Kaushambi,Uttar Pradesh Lok Sabha Elections 2019 News Updates, Uttar Pradesh Parliamentary Constituency details 2019, Kaushambi MP, Issues Political Analysis 2019: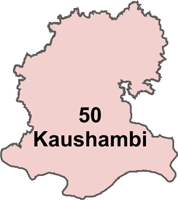 About the Constituency:
The Parliamentary Constituency of Kaushambi is one of the 80 Lok Sabha constituencies of Uttar Pradesh which was formed post the implementation of the 2008 delimitation of parliamentary constituencies. The total number of electorates in the Kaushambi Lok Sabha Constituency (constituency number 50) according to Election Commission of India 2009 reports are 1,391,312 of which 754,584 are males and 636,728 are females.
Assembly Segments:
It presently comprises of five Vidhan Sabha segments and is reserved for the SC category.
Names of Assembly Constituencies

Babaganj (SC)

Kunda

Sirathu

Manjhanpur (SC)

Chail
About Kausambhi:
The administrative headquarters of Kaushambi district is situated in the city of Manjhanpur. This district is located in the southern part of the state and is part of the Allahabad Division. It covers an area of 1,903.17 sq. km. Hindi is the official language of Kaushambi. Kaushambi has been declared one of India's 250 most backward districts in 2006, making it the one of the 34 districts of Uttar Pradesh receiving funds from the Backward Regions Grant Fund Programme. State Highways SH-94 and SH-95 pass through the district of Kaushambi and connect it to several major towns and cities.
Demographic Pattern:
According to the census data of 2011, Kaushambi district has a total population of 1,599,596 of which 52% are males and 48% are females. 17% of the population is below the age of six and it has a sex ratio of 908 females per 1000 males. The average literacy of this place is 61.28% with male literacy at 72.78% and female literacy at 48.56%.
Present Political Scenario:
In Kaushambi too, one who can attract the combination of Dalit-Brahmin-OBC votes will emerge as winner.