Jaunpur Uttar Pradesh Parliamentary Constituency 2019, Jaunpur Lok Sabha Constituency Details, Political News Jaunpur, Uttar Pradesh Lok Sabha Elections 2019 News Updates, Uttar Pradesh Parliamentary Constituency details 2019, Jaunpur MP, Issues Political
Details

Parent Category: Political News
Last Updated:

Friday, 25 January 2019 15:12
Jaunpur Uttar Pradesh Parliamentary Constituency 2019, Jaunpur Lok Sabha Constituency Details, Political News Jaunpur,Uttar Pradesh Lok Sabha Elections 2019 News Updates, Uttar Pradesh Parliamentary Constituency details 2019, Jaunpur MP, Issues Political Analysis 2019: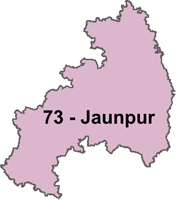 About the Constituency:
Jaunpur is one of the 80 constituencies of Uttar Pradesh, comprising of five Vidhan Sabha segments and came into existence in 1952. The Jaunpur Lok Sabha Constituency (constituency number 73) consists of 1,662,127 number of electorates in totality, of these 896,528 are males and 765,599 are females as the Election commission of India 2009 data suggests.
Assembly Segments:
Names of Assembly Constituencies

Badlapur

Shahganj

Jaunpur

Malhani

Mungra Badshahpur
About Jaunpur:
Jaunpur city is the district headquarters of the Jaunpur District with five rivers, Basuhi, Gomti, Pili, Sai and Varuna flowing through it. It has a total area of over 4,000 sq km and an average height of 82 m. The district has over 200 colleges offering higher education opportunities and over 300 schools. The Veer Bahadur Singh Purvanchal University is located here. Agriculture, including rice, maize, wheat, potato and chickpea cultivation along with cattle rearing and dairy farming are the primary economic activities.

It is one of the country 250 backward districts and receives funds from the government. Cotton mills, manufacturing of oils and attar as well as carpets and furniture also add to the economy of the area. The National Highway NH-56 and the State Highway SH-36 are the major pathways to nearby cities.
Present Political Scenario:
BSP Strong Candidature
Here BSP's Dhananjay Singh (sitting MP), who is widely seen as a sort of Rajput Robinhood was ahead in the race until now.

Secular card Played by the Congress
Congress has nominated popular Bhojpuri Superstar, Ravi Kishen from this seat who may also dent the 'secular' votes adding drama to the contest.
BJP's biggest concern
There are two X factors that will decide BJP's fate here – 1) Swami Chinmayanand, a former minister of state for Home in the Vajpayee government and four time MP (including Jaunpur in 1999) can create mischief for BJP although his clout has decreased considerably over the last decade and 2) support of local BJP leaders like Seema Dwivedi, the Mungra-Badshahpur MLA and 2009 MP contestant who is upset at being denied ticket.