Ghosi Uttar Pradesh Parliamentary Constituency 2019, Ghosi Lok Sabha Constituency Details, Political News Ghosi, Uttar Pradesh Lok Sabha Elections 2019 News Updates, Uttar Pradesh Parliamentary Constituency details 2019, Ghosi MP, Issues Political Analysi
Details

Parent Category: Political News
Last Updated:

Friday, 25 January 2019 14:55
Ghosi Uttar Pradesh Parliamentary Constituency 2019, Ghosi Lok Sabha Constituency Details, Political News Ghosi,Uttar Pradesh Lok Sabha Elections 2019 News Updates, Uttar Pradesh Parliamentary Constituency details 2019, Ghosi MP, Issues Political Analysis 2019: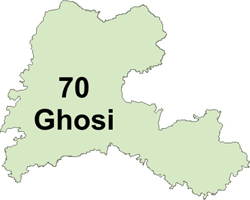 About the Constituency:
The Parliamentary Constituency of Ghosi is one of the 80 Lok Sabha constituencies of the state of Uttar Pradesh formed before the 1957 elections. 1,693,231 is the total electorate count in the Ghosi Lok Sabha Constituency (constituency number 70). Out of these 909,640 number of electorates are males and the remaining 783,591 are belong to the female category as the Election commission of India 2009 reports suggest.
Assembly Segments:
It presently comprises of five Vidhan Sabha segments of which one is reserved for the SC category.
Names of Assembly Constituencies

Madhuban

Ghosi

Muhammadabad-Gohna (SC)

Mau

Rasara
About Ghosi:
Ghosi is a nagar panchayat and a town in Mau district in UP. This district covers an area of 1,713 sq. km. Ghosi is located in the eastern part of the state at an average elevation of 68 meters and is 129 km far from Varanasi. Hindi is the official language of this town with Urdu and Bhojpuri being widely spoken by the residents. The economy of this city is primarily dependent on agriculture and business. Ghosi has a number of notable schools and colleges, both government and private. Ghosi is accessible through the National Highway NH 29.
Demography:
According to the census data of 2001, Ghosi has a total population of 35,833 of which 52% are males and 48% are females. It has a sex ratio of 978 females per 1000 males. 19% of the population is below the age of six. The city of Ghosi has an average literacy of 67% with male literacy at 78% and female literacy at 57%. 58% of the total population is Muslim followed by 41% of Hindus.
Present Political Scenario:
Tactical move by the BJP
It seems to be a calculated risk taken by Amit Shah to give ticket to Rajbhar instead of other contenders like Vijay Pratap Singh. Thakur votes will be crucial .