Chandauli Uttar Pradesh Parliamentary Constituency 2019, Chandauli Lok Sabha Constituency Details, Political News Chandauli,Uttar Pradesh Lok Sabha Elections 2019 News Updates, Uttar Pradesh Parliamentary Constituency details 2019, Chandauli MP, Issues Political Analysis 2019: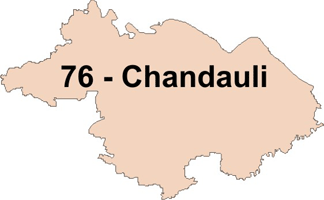 About the Constituency:
Chandauli Lok Sabha Constituency is one of the 80 constituencies of Uttar Pradesh, formed in 1952 with five Vidhan Sabha segments one of which is for the SC category. According to Election Commission of India 2009 data the total electorates in the Chandauli Parliamentary constituency (constituency number 76) were 1,446,259 of which 656,063 are females and 790,196 are males.
Assembly Segments:
Names of Assembly Constituencies

Mughalsarai

Sakaldiha

Saiyadraja

Ajagara (SC)

Shivpur
About Chandauli:
Chandauli district is one of India's 250 most backward districts and is one of the 34 districts of the state which receives funds from the Backward Regions Grant Fund Programme. Hindi is the official language here. National Highway NH-2 runs from Haryana through Chandauli upto Bihar placing it on a wide road network.
Demography:
As per the 2011 census data, the total population of the district is 1,952,756 of which 1,017,905 are males and 934,851 are females. The child population is a total of 309,597 and the sex ratio is 918 females for every 1000 males. The average literacy rate of Chandauli is 71.48% with male and female literacy rates are 81.72% and 60.35%.
Present Political Scenario:
Main fight between SP and BSP

Here the contest is mainly between SP and BSP.
Tough Constituency for BJP

BJP has nominated ex-MLA, Mahendranath Pandey who has the dubious distinction of getting only 57k votes and finishing fifth in Badohi in 2009.
Only a massive Modi wave can potentially cause a miraculous victory for BJP here.