Bijnor Uttar Pradesh Parliamentary Constituency 2019, Bijnor Lok Sabha Constituency Details, Political News Bijnor, Uttar Pradesh Lok Sabha Elections 2019 News Updates, Uttar Pradesh Parliamentary Constituency details 2019, Bijnor MP, Issues Political Ana
Details

Parent Category: Political News
Last Updated:

Tuesday, 29 January 2019 16:59
Bijnor Uttar Pradesh Parliamentary Constituency 2019, Bijnor Lok Sabha Constituency Details, Political News Bijnor,Uttar Pradesh Lok Sabha Elections 2019 News Updates, Uttar Pradesh Parliamentary Constituency details 2019, Bijnor MP, Issues Political Analysis 2019: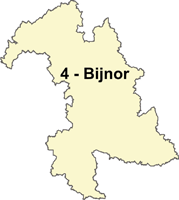 About the Constituency:
One of the 80 Lok Sabha constituencies of the state of Uttar Pradesh, the parliamentary constituency of Bijnor came into existence in 1952 currently comprises of five Vidhan Sabha segments of which one is reserved for the SC category. The total number of electorates in the Bijnor Lok Sabha Constituency (constituency number 4) according to Election Commission of India 2009 reports are 1,287,070 of which 704,063 are males and 583,007 are females.
Assembly Segments:
Names of Assembly Constituencies

Purqazi (SC)

Meerapur

Bijnor

Chandpur

Hastinapur (SC)
About Bijnor and Demographic pattern:
Bijnor District sprawls over an area of 4,049 and its headquarters are located in Bijnor city. Belonging to the Moradabad Division, the district has five tehsils; Najibabad, Bijnor, Dhampur, Chandpur and Nagina. With a total population of over 2,454,000, it is then 74th most densely populated district of the country and has a sex ratio of 913 females per 1000 males. Western Hindi or Rohilkhandi is the commonly used language here.
There are several schools and colleges located here. Agriculture, trade and tourism are the primary economic activities in the area. It has an extensive network of roads and railways and the National Highway NH-119 passes through the district.
The population growth over 2001-2011 has been 17.64%. With an average literacy rate of 68.48%, the district of has a male literacy rate of 76.56% and a female literacy rate of 59.72%. It has a population density of 808 people per sq km and the child population is over 564,000.
Present Political Scenario:
Three corner fight
Now it is almost a three cornered fight between BSP, BJP and RLD (especially after RLD nominated actress Jayaprada from here) with Chandpur, Hatinapur and Meerapur assembly segments holding the key.