North East Delhi Parliamentary Constituency 2019, North East Delhi Lok Sabha Constituency Details, Political News North East Delhi, Delhi Lok Sabha Elections 2019 News Updates, Delhi Parliamentary Constituency details 2019, North East MP, Issues Political
Details

Parent Category: Political News
Last Updated:

Tuesday, 29 January 2019 12:57
North East Delhi Parliamentary Constituency 2019, North East Delhi Lok Sabha Constituency Details, Political News North East Delhi, Delhi Lok Sabha Elections 2019 News Updates, Delhi Parliamentary Constituency details 2019, North East MP, Issues Political Analysis 2019: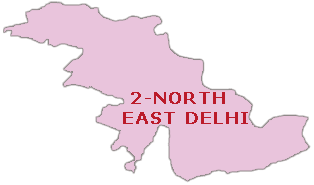 Election Results Facts:
| | | | | |
| --- | --- | --- | --- | --- |
| Jai Prakash Agarwal | INC | 518191 | 59.03% | 25.32% |
| B.L.Sharma Prem | BJP | 295948 | 33.71% | |
About Parliamentary Constituency:
Unlike its counterpart North-West Delhi, where the original landholders had rich agricultural holdings, this part of the Capital consists of the marshy land of Yamuna. This Parliamentary constituency comprises Burari, Timarpur, Seemapuri, Rohtas Nagar, Seelampur, Ghonda, Babarpur, Gokalpur, Mustafabad and Karawal Nagar..

Demographic Pattern:
As per the Delhi Government records, the maximum number of Below Poverty Line (BPL) families live in this constituency. About 85 per cent are migrants (from Western UP, Haryana, Bihar and Eastern UP) in this constituency; of which, 15 per cent are from Bihar and Eastern UP..
The middle and upper middle class are restricted to posh areas in Mukherjee Nagar, Tagore Park, Vijay Nagar, Yamuna Vihar and Delhi University campus.
Areas which comprise :
Mukhmelpur, Kadipur, Nangli Poona, Mukandpur, Dhakka Village, Burari Jagatpur, Gopalpur, Garhi Mendu, Mandoli, Saboli, Johri Pur, Gamri, Biharipur, Sabhapur, Sadat Nagar and Dayalpur are also located in the constituency. At least 10 JJ clusters such as Jehagirpuri, Seemapuri, Nand Nagari, Seelampuri and Gokulpuri are also located here.
Present Political Scenario:
While the BJP is banking on Gujarat Chief Minister Narendra Modi's charisma and the anti-incumbency factor to wrest the power, while the Congress is hinging on its achievements. On the other hand, Arvind Kejriwal is hoping to cash in on voters' anger at the Congress and the BJP. Kejriwal is also hoping that BSP votes are likely to switch over to his party in the absence of Mayawati's charisma.
What can make a difference:
The political power in the new constituency seems to rest with Brahmins, but the overall result may depend on caste alliances and voting patterns in different areas. Though the Brahmin factor cannot be shrugged aside, parties will work overtime to woo the Muslim, OBC and SC voters. However, one thing is clear, migrants and unauthorized colonies' votes would make a significant difference in the Lok Sabha elections.