No Muslims in BJP's list of candidates for Uttar Pradesh, BJP's list of candidates for Uttar Pradesh, BJP candidate list for uttar pradesh, Muslim Candidates, BJP, Narendra Modi, Uttar Pradesh, Candidate list, BJP Candidate, BJP Muslim Candidate, Lok sabh
Details

Parent Category: Political News
Last Updated:

Thursday, 22 January 2015 20:56
No Muslims in BJP's list of candidates for Uttar Pradesh.
New Delhi: As it makes a serious bid to wrest power from the Congress at the Centre after a gap of a decade, the BJP has come under attack for its refusal to field any Muslim from Uttar Pradesh in the Lok Sabha polls beginning next month.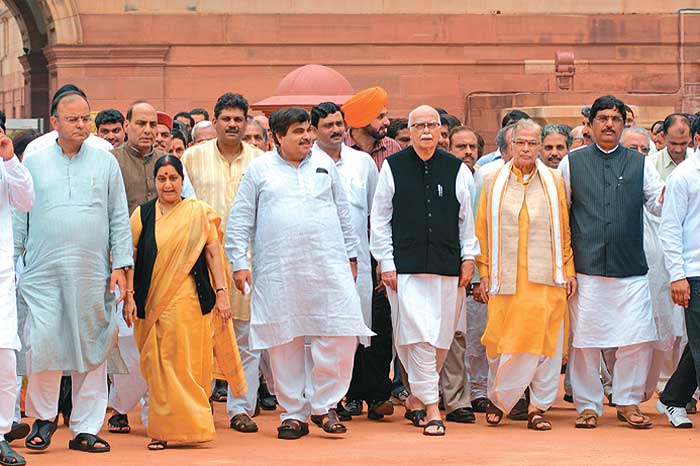 The state sends the largest contingent of 80 MPs to the Lok Sabha. It also has a numerically-significant Muslim population, which accounts for some 17 per cent of the electorate. The BJP still did not deem it fit to name a single candidate from the community in Uttar Pradesh.
"We have to look at winnability. We have given tickets in other states. I want to make an appeal to all Muslim brothers and sisters that they should join us. We will not allow hatred to prosper,'' BJP president Rajnath Singh told NDTV in response to a query.
The BJP's track-record on accommodating Muslim candidates from Uttar Pradesh has been very shoddy. In 1998, Mukhtar Abbas Naqvi ran from Rampur, and won. He was promptly made a Union minister in the Atal Bihari Vajpayee government. But he lost to the Congress' Begum Noor Bano in the general election held a year later.
The BJP, which has so far brought out six lists of its candidates for next month's Lok Sabha polls, has named only five Muslims in other parts of the country. These include three from Jammu and Kashmir (Srinagar, Baramulla and Anantnag) and one each from Bihar and the union territory of Lakshadweep. Former union minister Syed Shahnawaz Hussain has been renominated from Bhagalpur in Bihar.
The lists include the names of  two Christians (film actor George Baker from Howrah in West Bengal and Sabu Verghese from Idukki in Kerala) and a Buddhist (Thunpsthan Chhewang from Ladakh).
source:ndtv.com