LS elections 2014: Prominent names on AAP, Congress and BJP tickets?,AAP,Lok Sabha Election,Arvind Kejriwal,Rahul Gandhi,Lok Sabha polls , Lok Sabha, LSPolls, Lok Sabha 2014, IndianElections, India , Politics, Elections2014 , Elections ,Arving kejriwal
Details

Parent Category: Political News
Last Updated:

Thursday, 22 January 2015 20:55
LS elections 2014: Prominent names on AAP, Congress and BJP tickets?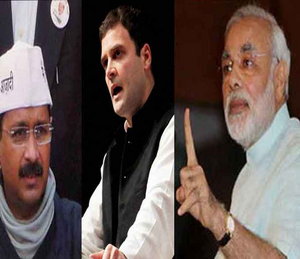 New Delhi: With the political atmosphere getting more intense with each passing day, political parties are becoming more and more active with the campaigning and placing apt candidates at the right places. The Aam Aadmi Party has come up with its fourth list of candidates for the 2014 Lok Sabha elections.

The elections are slated to commence from next month on April 7 and major political parties Bjp, Congress and Aap has already declared many of their candidates. While Congress has come up with highest number of candidates so far with declarations of names for 194 seats, AAP and BJP are comparatively behind as they announced candidates for 131 and 106 seats respectively.

The convener of AAP Arvind Kejriwal didn't make it clear that his party will file candidates from all the Lok Sabha seats or not. The star candidate in the fourth list released by AAP is former Tehelka journalist and gulail.com founder Ashish Khetan who has been fielded from New Delhi seat.

AAP has placed candidates for Delhi, Haryana, Uttar Pradesh, Karnataka and Punjab. While the debutant party has filed its candidates for Delhi, BJP and Congress are yet to name the participants who are going to contest against AAP candidates from New Delhi.

Renowned former journalist Ashutosh who left journalist to join the party will be contesting from Chandi Chowk where the incumbent Member of Parliament is Kapil Sibal. The leader of the party Kejriwal had declared a list of corrupt politicians earlier and stated that they will target those politicians in the upcoming general elections.

Also Read:- Lok Sabha 2014 Updates| Opinion poll |Candidate list for upcoming elections|Election Schedule| National News 
The prominent names from the Congress are of party's President Sonia Gandhi, Rahul Gandhi, Ravi Kishan and former cricketer Mohammad Kaif. These leaders will be contesting from Rae Bareli, Amethi, Jaunpur and Phulpur respectively.

There are speculations that AAP leader Kumar Vishwas might get a chance to contest against Rahul Gandhi, though no official announcement has been made yet. He has also began to campaign from Amethi. The place is Rahul Gandhi's bastion and the other political parties will place the best possible choice, if they desire to win a seat from Amethi.

The curtain from the name of BJP's prime ministerial candidate Narendra Modi has not been raised. Kejriwal presented his candidature and challenged Modi to contest in the election from a constituency outside Gujarat against him. Now only the time will tell whether Modi has accepted the challenge or not.

Some media reports claim that Modi pondered over the issue and decided to contest from Varanasi. Any official announcement in this regard is awaited. If Modi chooses to participate in the election from a constituency outside Gujarat, it is likely that he will get to face Kejriwal in the battleground.

One of the prominent figures BJP has filed so far is former party President Nitin Gadkari. He has been chosen to contest from Nagpur and the Congress has placed Vilas Muttemwar.
Source: Daily Bhaskar