No Lok Sabha ticket for Delhi MLAs: Arvind Kejriwal
Details

Parent Category: Political News
Last Updated:

Thursday, 22 January 2015 20:54
No Lok Sabha ticket for Delhi MLAs: Arvind Kejriwal.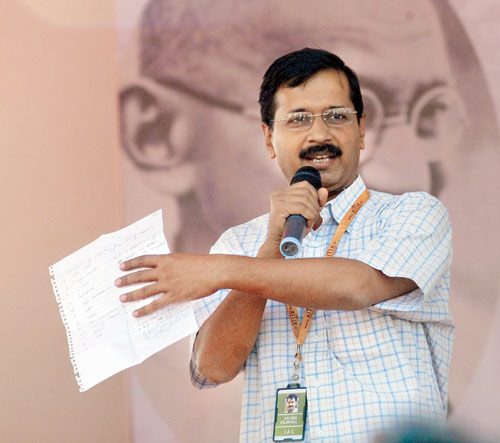 NEW DELHI: AAP leader Arvind Kejriwal's announcement that party legislators will not be considered for the parliamentary elections set off speculation on his own candidature for the Lok Sabha polls. While Kejriwal has consistently said that no decision was taken on whether he will fight LS elections, there has been considerable pressure from the party and outside to contest.
"We will not give ticket to any legislator for the Lok Sabha elections," Kejriwal said. He was speaking in response to a question on MLA Rakhi Birla's possible candidature for north-west Delhi. Though Birla's name has not been formally announced, several party members have been sitting on an indefinite hunger strike against her nomination.
Party sources said the issue was discussed in the political affairs committee on Wednesday. "There is no doubt that she is a strong candidate but we need people for Delhi also,'' a source said. The party will contest all 70 Delhi assembly seats whenever state elections are announced and would like to retain strong candidates for that.
Also Read:- Lok Sabha 2014 Updates| Opinion poll |Candidate list for upcoming elections|Election Schedule| National News
Kejriwal has expressed interest in staying committed to Delhi rather than contest LS polls though there are chances that he may fight against BJP's prime ministerial candidate Narendra Modi if the CM contests from outside Gujarat. However, there is no clarity on where Modi will contest from and AAP is keeping its cards close to its chest for now.
AAP made its debut with 28 seats in the Delhi assembly elections. It ran the city government for 49 days with outside support of the Congress, but the government resigned on the issue of Jan Lokpal bill. The party has subsequently challenged the imposition of President's rule in Delhi and keeping the assembly in suspended animation. If its contention that keeping the assembly in suspended animation will encourage horse-trading is upheld, the party will have to gear up both for Delhi and LS polls.
Source:Times of India